Canberra ice hockey Knights close to making a return
The Canberra men's ice hockey team is a step closer to rising from the dead after it secured an agreement to play at the Phillip Swimming and Ice Skating Centre.
The player-led group will have a tele-conference with Australian Ice Hockey League officials at 8pm on Monday to determine if it will be allowed back into the competition.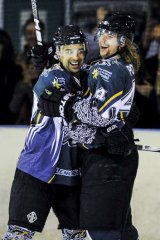 The AIHL wants to see if the Canberra group is financially viable, has the capacity to field a competitive team and has a deal to use a suitable venue before it is granted a licence.
They are one-third of the way there after a successful meeting with Knights licence holder and Phillip Swimming and Ice Skating Centre manager John Raut on Sunday to discuss plans to use the complex.
Raut said an agreement had been struck for the players to use the venue for match days as previously outlined in the AIHL schedule and ice time for training.
''I'm happy to work with the boys, I told them that today, we've struck a deal on paper and I've sent an email to (AIHL deputy commissioner) Alex Lata and (AIHL commissioner) Robert Bannerman saying I would fully support continuing on and letting the team play out of this ice rink,'' Raut said.
''Hopefully they can restore the image of ice hockey here that we had many years ago.
''It didn't matter if we won or lost, as long as they were close games, that was the most important thing.
''I'm hoping they can satisfy the criteria of the board tomorrow.''
That is appearing more and more likely by the day.
Public donations are in excess of $23,000 to go with a national sporting teams grant of $29,000 from the ACT government.
The Canberra players and the Phillip Swimming and Ice Skating Centre have a one-year agreement to use the rink, with an option for 2015.
Raut's main reason for withdrawing the team was a fear they wouldn't be competitive after he said none of the senior players could commit to playing all road games.
''It got too difficult and embarrassing when they went away and lost by 12 and 16 goals,'' he said.
''I felt it would have been unfair to the league, to the Canberra Knights and to the teams who we play against and it's ripping off the fans of ice hockey.
''I'm glad the boys have got some players together and the extra imports.''
The Canberra team will use a different name if it is allowed back into the league, with players keen for a fresh start away from the Knights brand.
''They have decided they want to be a complete new entity, and I don't think it's a bad idea,'' Raut said.
''If there's a major overhaul maybe the name will become available.
''But we don't want to destroy our brand, the Canberra Knights brand is something we can use in the future, even if we put a team in the East Coast Super League or an under-21 team.''
Donations for the Canberra ice hockey team can be made here.
Lee Gaskin is a sports reporter at The Canberra Times.