More than 82,000 people through the gates across seven games, exposure to millions more throughout Asia, the best playing surface and the best game of the competition.
Once again, Canberra has well and truly punched above its weight, to be one of the major winners from the Asian Cup.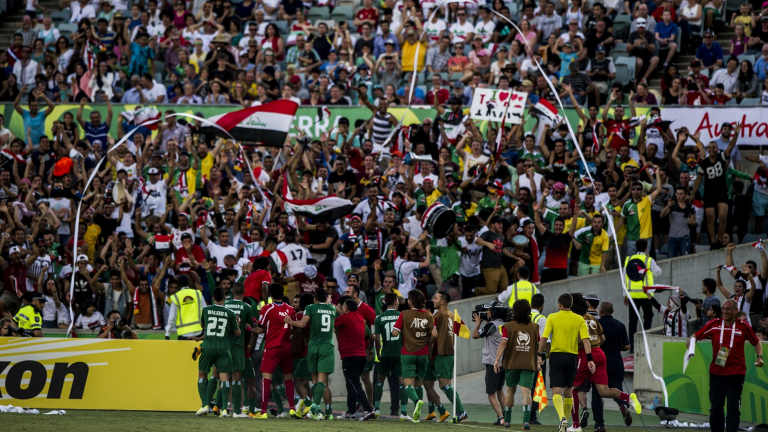 Friday night's sensational quarter-final between Iraq and Iran was the perfect ending to Canberra's involvement in the competition.
The 18,921 fans at Canberra Stadium took the total attendance to 82,398 for the six group games and the quarter-final spanning January 10 to 23.
That was almost double what tournament organisers had budgeted for in terms of attendance figures and came despite initial concerns about slow ticket sales.
Asian Cup local organising committee chief executive Michael Brown said he was blown away by the response after putting out a call to arms to the Canberra community in the days leading up to the tournament.
"I, tongue in cheek, challenged them a few weeks ago and I was pleasantly surprised," Brown said.
"There were a lot of people knocking Canberra, saying 'why do they have seven games, why have they got a quarter-final, why don't we go somewhere else'.
"But [it's] to the credit of [ACT Chief Minister] Andrew Barr, who five or six years ago said we're going to do this, we're committed to this and we're going to see it through.
"He believes if you bring international sport it would reflect really well on Canberra, and it has."
The ACT government spent $3.5 million to join Sydney, Newcastle, Brisbane and Melbourne as the five host cities for the tournament, while Adelaide and Perth missed out.
"Every state was given a chance to bid for matches and the ones that did knew they had to make a financial contribution to the event, put their hands in their pockets, and Canberra did that," Brown said.
"South Australia and Western Australia didn't. That's the way it goes.
"Everyone told me there is no one in Canberra in January, but I was confident there was enough people who want to see international sport.
"You couldn't be prouder of how it's gone in Canberra."
A representative of the Asian Football Confederation rated the Canberra Stadium playing surface as the best in the tournament.
The atmosphere for Iraq's heart-stopping quarter-final triumph against Iran in a penalty shootout was one of the most electric seen in the ACT.
Capital Football chief executive Heather Reid said the success of the Asian Cup games in Canberra had shown the city's capacity to host elite football.
"It's certainly been an education for a whole lot of stakeholders for Canberra's capacity to hold a good event, run it professionally, and we have a venue that's a top-class venue," Reid said.
"We've got a very dedicated government that backs sport as a key platform for tourism, economic growth and trade.
"We've got the AIS in our backyard which lends itself as a top-class training venue, then next door we have Canberra Stadium.
"So there's a lot of factors that stack up that says Canberra has proven we do deserve more respect when it comes to top-class football activity."
Lee Gaskin is a sports reporter at The Canberra Times.