Canberra United kicked off its W-League season with an Ellen DeGeneres Oscar selfie.
But in just over three months, United will be hoping to celebrate for another reason by taking the championship for a second time.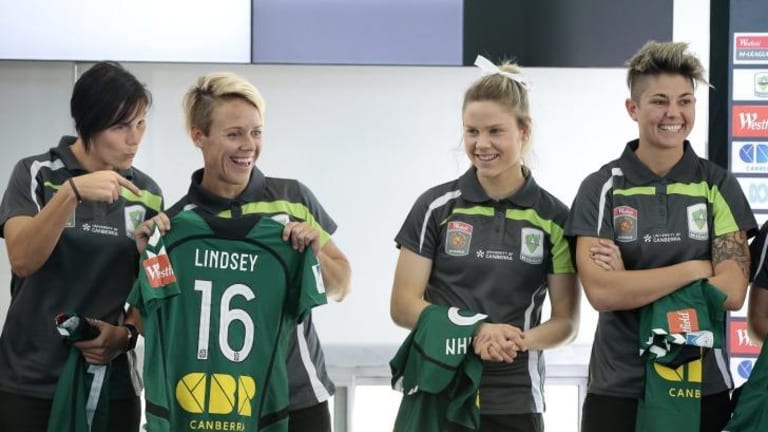 Last season's minor premiership winner starts its quest for redemption when it takes on the Western Sydney Wanderers at Campbelltown Stadium on Sunday.
After a stunning surge in the second half of the season to finish on top of the table, United was eliminated at the first hurdle, losing 2-1 to the Brisbane Roar in the semi-final at McKellar Park.
It was a bitter pill to swallow, but there was nothing but excitement for the campaign ahead at Thursday's season launch at the University of Canberra.
The entire playing squad posed for a selfie in the vein of DeGeneres' star-studded shot of A-list celebrities at this year's Oscars.
While they were all smiles on stage, midfield linchpin Lori Lindsey admitted there was still plenty of pain from the team's premature exit.
"I knew I wanted to come back and had some unfinished business from last season," Lindsey said.
"Everyone was pretty bummed.
"We knew after last season we wanted to get back together. Liz (coach Elisabeth Migchelsen) and Rae (assistant coach Raeanne Dower) are back, and we've got the same goal as last year, which is to win the championship."
Collecting the W-League title on December 21 would be the final accolade in Lindsey's outstanding career.
The 34-year-old former US international, who has represented her country 31 times, will hang up the boots for good at the end of this season.
"Even before I came to Canberra [last year], I could start to tell," Lindsey said.
"Physically, knock on wood, I feel great and my game has never been about athleticism or sprinting past anybody; it's more of a thinking-type game and as a passer.
"I didn't want to get to the point where I started to be pushed out of the sport.
"I feel good about where I am and I was getting excited about future endeavours, so I knew it was time."
United has kept the core of its squad intact, losing Matildas goalkeeper Lydia Williams (knee) and midfielder Jennifer Bisset (ankle) to season-ending injuries, while Sally Shipard has retired and reserve keeper Trudy Burke has joined the Wanderers.
Young Matildas representative Sally Rojahn will miss the season opener with an ankle injury after establishing herself in the team at right back.
"I'll miss the first part of the season and hopefully get back into the swing of things quickly," Rojahn said.
"It's quite disappointing I've got this niggle, but I'm still expecting a great season for the team.
"Last year was probably the biggest eye-opener I had."
SUNDAY: W-League, round 1: Canberra United v Western Sydney Wanderers at Campbelltown Stadium, 3pm. TV: Live on ABC 1.

Lee Gaskin is a sports reporter at The Canberra Times.
Morning & Afternoon Newsletter
Delivered Mon–Fri.