Fitter, faster and stronger - Kris Britt hopes the ACT Meteors' new and strict fitness regimen will provide the launching pad she needs to make a return to international cricket.
But while the Meteors skipper feels in the best shape of her career as she attempts to impress Australian selectors, Britt insists team success takes priority over her individual ambition.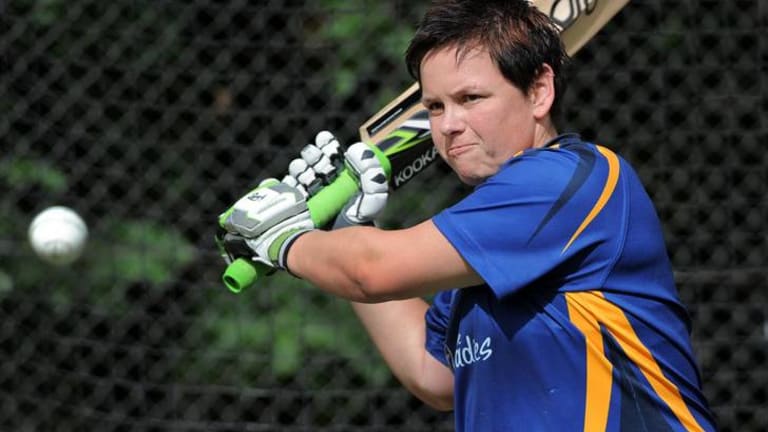 The Meteors will start their three-match series against Tasmania in Burnie on Friday brimming with confidence after toppling defending Twenty20 champion Victoria two weeks ago.
Britt is one player who hopes to benefit from the Meteors' impressive start to the WNCL one-day and Twenty20 competitions.
New coach Andrew Dawson took over with an aim to turn ACT players into international representatives.
He introduced an intense fitness program and brutal 6am training sessions in the Canberra winter to get the players in peak condition.
And Britt - who last played for Australia four years ago - says the squad is reaping the rewards.
''At times we were out there training and it was minus six degrees, so we've toughened up a bit,'' Britt said.
''We all have programs for eight sessions a week and it's tough, but if you want to compete that's what you've got to do.
''I'm as strong as I've ever been and that's translating into my game ... everyone's goal is to play for Australia.
''Being 29 I'm a little bit older, but I don't think I'm passed it and I'm hoping all the hard work we've done as a team pays off.''
The Meteors have been largely overlooked by Australian selectors in recent years.
Players have made training squads, but no one has been able to cement a place in the regular rotation.
Britt has been the team's best player in the four WNCL seasons, but played her only Test for Australia in 2003 and last played for the national team in a one-day international against England in 2008.
The chance of Meteors rising into the Australian side relies heavily on team success.
The Meteors have won just one of their two 50-over matches but are second on the Twenty20 ladder behind powerhouse NSW with four wins from six games.
''The Meteors' focus is that there's nothing bigger than playing in a WNCL Twenty20 or 50-over competition,'' Britt said.
''The Aussie stuff will come if we do perform and reach our Meteors goals and make the finals.
''If we can show that we're a good team and firing all the time, it definitely helps with national selection.''
In contrast to the Meteors' form, Tasmania has won just one Twenty20 fixture and sit at the bottom of the ladder in the one-day competition.
The Meteors have made one change to their squad for the three-matches this weekend.
Uncapped all-rounder Kate Waetford joins the team after linking with the Meteors in the off-season.
ACT METEORS v TASMANIA ROAR
Friday: Twenty20 match at Burnie, 3pm
Saturday: WNCL 50-over match at Burnie, 10am
Sunday: Twenty20 match at Burnie, 10am

Meteors squad: Kris Britt, Lynsey Askew, Laura Wright, Sam Bates, Rhiannon Dick, Zoe Cooke, Sara Hungerford, Sally Moylan, Kate Owen, Alison Parkin, Asha Smith, Kate Waetford.
Morning & Afternoon Newsletter
Delivered Mon–Fri.