Folkard winds up for worlds defence
His action resembles something out of a Bruce Lee movie and Adam Folkard's pitching is just as hard to hit.
Folkard dominated in Australia's 5-0 victory over New Zealand in the 2009 World Championships final in Canada.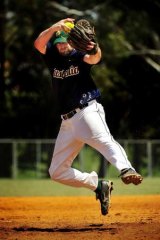 The ACT and Aussie Steelers pitcher was so feared by the New Zealand softball team, it got the laws changed to try to reduce his effectiveness.
But rather than be deterred, Folkard simply changed his action.
The test of whether the Kiwis' mind games have worked will begin on Friday when the Steelers start their world title defence in Auckland.
Folkard said it wouldn't be a two-horse race between the Australians and New Zealand, with Argentina and Canada also pushing for the top gong.
Folkard is one of eight Canberrans in the 17-man Australian squad.
He is widely regarded as one of the best pitchers in the world, along with Aussie and ACT teammate Andrew Kirkpatrick.
Folkard wasn't letting the Kiwi-led rule changes bother him in the lead-up to the worlds - although he might use it as motivation.
''I don't know why [New Zealand] did that or why they went about it, obviously we heard everything second-hand,'' he said. ''We don't let it faze us, we're ready for the challenge, that's for sure, and looking to play some good quality ball.''
The plasterer spends four months of the year playing softball in the US and Canada - and the rest of the year working flat-out to support himself overseas.
Softball is still very much an amateur sport.
Along with Folkard, there are nine players from the 2009 squad returning to fight to retain the world title.
Another is Jeff Goolagong - the nephew of legendary tennis player Evonne Goolagong Cawley.
He'll retire from softball after the worlds and is desperate to go out on a high.
Goolagong said all the Australian pitchers had kept the Kiwi bats quiet in recent years and he was expecting that trend to continue. He said the rule changes showed they struggled against the Australians.
''You let them do their own thing, it obviously shows that they're very concerned, mate,'' Goolagong said.
''They're trying anything to pull us back … when they had the wood over us for many years, we used to play them all the time, but once we caught up and started beating them on a consistent basis, all that dried up, they didn't want to play any more.
''If they want to go down that path, they can go down that path - it's still not going to work.''
Tim Crone, Michael Gibson, Michael Tanner and Zenon Winters are the other Canberrans in the squad.
Australia opens its campaign against the USA on Friday, with the grand final to be played on March 10.
David Polkinghorne covers the Canberra Raiders, local rugby league, Canberra Cavalry, racing and cycling, along with every other sport, for The Canberra Times.