Canberra Brave forward Stephen Blunden has been recognised for his outstanding season in the Australian Ice Hockey League by being named the club's most valuable player.
Blunden scooped the pool at Sunday night's Brave Ball at the Woden Tradies Club, picking up awards for best forward and highest points scorer to go with the top gong.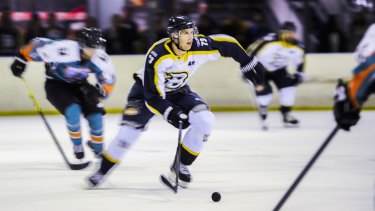 The 26-year-old Canadian has backed up last year's wonderful debut season with another strong campaign, scoring 28 goals and having 51 assists in 24 games for 79 points, the second-highest in the AIHL.
Blunden scored four goals in Saturday night's 7-2 win against the Sydney Ice Dogs.
The Brave will turn their focus to this weekend's AIHL finals in Melbourne where they will face the Newcastle North Stars on Saturday.
The winner takes on either the Melbourne Ice or Perth Thunder in Sunday's grand final.
Brave captain Mark Rummukainen was named player's player, best defender went to Kyle Mariani, Jimmy Byers collected the fans' choice and emerging Brave award for best under-23 player, while Kai Miettinen and Pete Taylor shared the coaches' award.
The John Lewis memorial award for team dedication on and off the ice went to Ryan Johnson.
CANBERRA BRAVE 2015 AWARDS
MVP: Stephen Blunden.
Players' player: Mark Rummukainen.
Fans' choice: Jimmy Byers.
Best forward: Stephen Blunden.
Best defender: Kyle Mariani.
Highest points scorer: Stephen Blunden.
John Lewis memorial award: Ryan Johnson.
Coach's award: Kai Miettinen and Pete Taylor.
Best under-23 player: Jimmy Byers.
Lee Gaskin is a sports reporter at The Canberra Times.