Mud, sweat and cheers as tight races reign in the rain
WHILE the rain wreaked havoc with cricket fixtures across the capital yesterday, it proved a boon for the Australian Classic Dirt Track Championships at the Pialligo track.
More than 80 riders from as far as northern Queensland braved a muddy track in yesterday's qualifying rounds, but the rainy conditions did not worry the officials.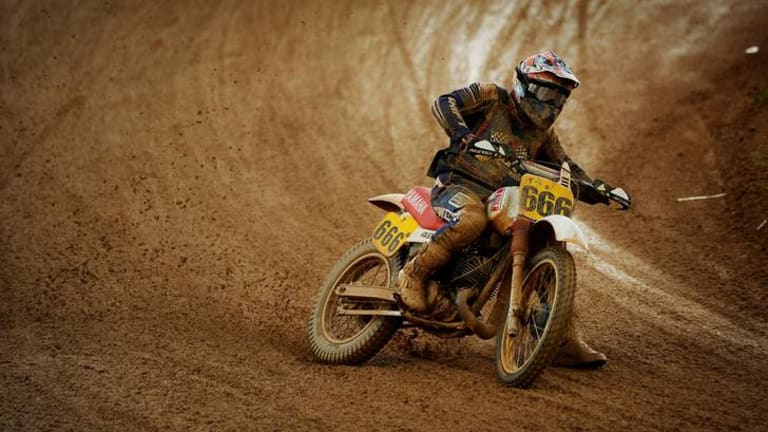 ''It's actually doing the track really good … the only thing it's affected is the girls and their lap scoring. The numbers [they wear] - the mud covers them,'' assistant race secretary Darylene Austin said.
The wet track made for close races as riders aged 17 to 72 battled it out on classic bikes, with pre-1960 the oldest category, and pre-1985 the latest.
''With this weather, it's all open - if it was dry, you'd probably have your few that shine, but in the wet it's anyone's race,'' racer Mark Bennett said.
His wife, Tania Bennett (nee Gulson), was the only woman on the race card, having turned her attention to bikes after racing V8s with her father, Ray Gulson, including at Bathurst in 1993.
''Dirt tracking's a huge family … it's got a lot more camaraderie than motocross and the guys that come out of this sport go on to be world champion road racers,'' race starter Alan ''The Fossil'' Garvey said.
''Casey Stoner's a dirt tracker, Wayne Gardner was a dirt tracker, Troy Bayliss was a dirt tracker, you name it. This is a training ground for young adventurous kids to move up in the world.''
Goulburn's Mark Herfoss, the father of American supermoto champion Troy Herfoss, will be among the competitors in today's finals in the pre-1978 263cc and over championship.
Racing starts at 9am. Spectators should enter from the north side of Pialligo Avenue, between Oaks Estate and Sutton roads.
Morning & Afternoon Newsletter
Delivered Mon–Fri.