Mouncey to make his debut for Australia
CALLUM MOUNCEY'S selection in the Australian handball team can be traced back 12 years.
The then 10-year-old Callum watched two handball games with his family at the Sydney Olympics and fell in love.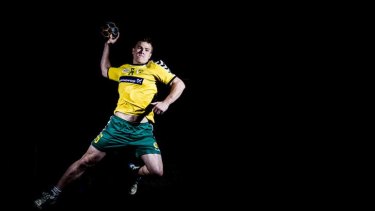 With tickets readily available for a sport not many in Australia would recognise, Mouncey's parents inadvertently set their son onto the path to an international career, with Callum set to make his debut against New Zealand in a World Championship qualifier in Canberra next week.
Mouncey, who plays as a pivot in handball, grew up playing Australian football and cricket, but his move to Canberra from Albury three years ago was a turning point.
He got involved in the local handball league and soon got the attention of national selectors. But despite his selection in the Australian squad, don't expect Mouncey to quit his day job.
The 22-year-old is forced to balance handball commitments with work and he is also studying counselling. The Australian team is an amateur outfit, with players paying their own way.
''Work is very flexible … I coach handball as well with the Active After School program, so that helps, but it's tough,'' Mouncey said.
Handball is still a minor sport in Australia, but still offers opportunities overseas.
''It's probably, after soccer, the most popular sport [in Europe], especially in the eastern European countries,'' Mouncey said.
''I don't know exactly how much the players are paid, but they're not poor - similar to rugby league or AFL players here, it's huge.
''We've got a couple of guys in the national team … who are playing in Germany and Sweden and I think there's one in Denmark as well, so to go over [to Europe] and play there in a tournament is [great], but if anyone can pick up a club to play with over there, it would be fantastic.''
Mouncey's call-up to the Australian side came after he put in a lot of work to recover from a horror run of injuries.
''Over the past 12 months I've broken my ankle, broken my wrist twice, and then there's a few minor injuries like fingers and stuff … so to be able to play is a big relief.''
Australia plays New Zealand in a two-game series in Sydney on Friday and Saturday, with the winner to qualify for the World Championships in Spain.