Many families might come to blows if they were to hole up in a smallish boat for five days, crossing the notorious Bass Strait on a break from working together in the same office.
But Canberra's Cooke family clearly get along very well.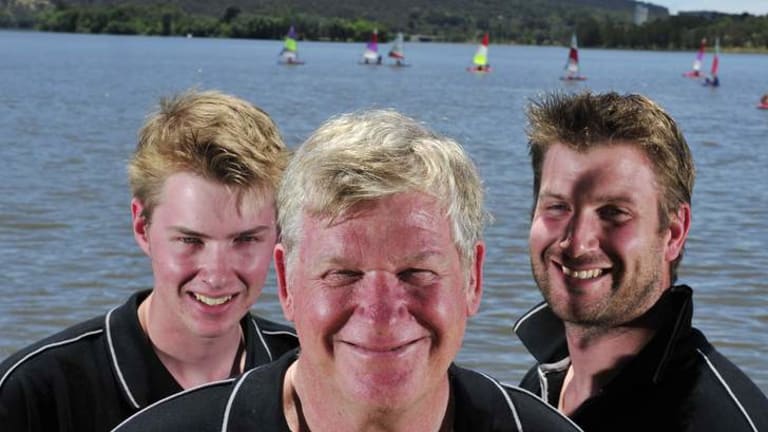 They can even joke about when dad Ian threw-up on Michael as he slept in the bunk next to the sink two years ago.
''I totally would have hurled as well if it was me sitting in the tight space,'' Michael said.
''It really does get hot - it's 30-plus degrees below deck - and sitting there trying to concentrate and do things is not pleasant on the navigation table.''
It's that relaxed nature which they hope will net their boat, CIC Technology Inca, a win in the Sydney to Hobart PHS Division 2, with Ian's youngest son Nick also joining them on the eight-man crew this year.
''Everyone asks is there any tension among you and there isn't - we all know what our function is on the boat and this year both boys are on my watch, so there's the three of us plus one other Canberra guy, Robin Malpas, that are all on the same watch,'' Ian said.
''I don't think there's anything really to get too stressed about - as long as they do what they're told, we're all OK.''
For Nick, it will be his first time crossing the strait; he's more accustomed to sailing toppers on Lake Burley Griffin, where both boys learnt to sail, but the 20-year-old doesn't see too much difference.
''I had to bring the boat from Brisbane to be prepared for Sydney, so that was a week of offshore sailing, and we've done three weekends of training now, of just constant sailing, so it's the same thing, just bigger,'' he said.
The elder Cookes haven't shared war stories with the youngest member of the crew, encouraging him instead to relax and enjoy the experience.
''I suppose really the worst case scenario [is] I fall in some water, that's the way I'm thinking about it anyway,'' Nick said.
''There's a lot can go wrong, but there's no point in getting worried about it. We had a couple of stitches when we were travelling down from Brisbane - dad got a bit of a whack from the spinnaker pole, so we had to stop in by Coffs Harbour.''
While the family will have a low-key Christmas as they prepare for the Boxing Day start, they're hoping to make it to Hobart in five days to get a good sleep before New Year's Eve celebrations on land, but they know anything can happen.
''Last time we did it, it was such a let down - we were doing so well and you could almost see the finishing line and the wind just died out and we sat there for 12 hours and went from first to third,'' Michael said.
''That's sailing, though. It's swings and roundabouts, you know.
''It's about the long race and making sure that everyone's safe and happy at the end with big gold medals around our neck.''
Morning & Afternoon Newsletter
Delivered Mon–Fri.