Frustrated Canberra Raiders coach Ricky Stuart has demanded NRL clubs be compensated for developing juniors, blasting the Brisbane Broncos for ''pinching'' Anthony Milford and predicting Australian captain Cameron Smith will be next.
Stuart said he would have no concerns for Milford's playing commitment to the Raiders next season after the 19-year-old rookie sensation confirmed he would honour his contract in Canberra in 2014, before joining the Broncos on a two-year deal from 2015.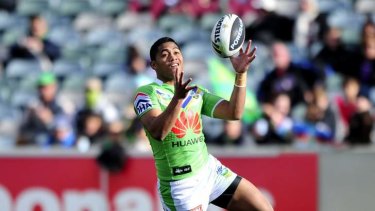 The Broncos deal is water-tight. Milford's management revealed the Brisbane contract had no potential escape-clauses – even relating to the controversial Round 13 transfer rule.
It's understood the Raiders had offered Milford a three-year upgrade and by 2015 he would have been the highest paid player at the club and one of the highest earners in the NRL.
Stuart refused to confirm terms of Canberra's offer, but couldn't hide his disappointment at losing Milford.
''It's a win that we've got him for 2014, 100 per cent, but it's very disappointing to lose such a talent. We did everything possible to keep him,'' Stuart said.
Milford grew up in the Broncos' backyard – the south Brisbane area of Logan – but on a scholarship with the Raiders since he was 13.
Stuart blasted the Broncos' development strategy, given they have already signed Ben Barba and were reportedly targeting Smith and Daly Cherry Evans for 2015.
''Why should we develop kids for other clubs like the Broncos, who have been probably one of the worst clubs over the last five years for development, yet they'll go and pinch Anthony Milford and Cameron Smith.''
Stuart and Raiders chief executive Don Furner will travel to Brisbane on Thursday to discuss the re-establishment of formal affiliation with Queensland Cup club the Souths Logan Magpies.
But Stuart said the Raiders must again re-examine funding of junior development, given the loss of another star.
''It puts our whole deal in jeopardy with Souths Logan. Why do we keep putting money into Souths Logan and putting money into our development pathways to just keep losing these players,'' Stuart fumed.
''Milford's going to be a special talent, yet we do all the development work for him.
''There has to be some compensation for clubs developing juniors.
''The [Raiders] have done a fabulous job over many, many years, even when I was playing here. Yet now the big clubs just come in and pinch players. We need to get compensated through the salary cap.''
Milford requested a release from the Raiders in August, claiming homesickness and concern for the ongoing health of his father, Halo.
The Raiders had held hope of convincing him to stay long term.
As the Raiders dug in their heels, Milford's manager, Sam Ayoub, had threatened legal action or boycotting the 2014 season.
Under NRL guidelines, player contracts will not be registered until after round 13, enabling the player's current club to make a final counter offer.
The Raiders used that rule to convince one of Milford's best friends and Australian international Josh Papalii to renege on a contract he'd signed with Parramatta earlier this year.
But Ayoub said Milford's decision was final.
''That clause [the Round 13 escape clause] has been removed from his contract,'' Ayoub said.
''We played with the cards we were dealt and decided to take appropriate action to relieve Anthony of the pressure he's been under ... we're satisfied with the outcome.
''He made a decision he felt was best for him. We didn't feel it warranted further scrutiny, further drama, potential litigation.
''It's like a game of footy, there's always a winner and a loser.''
Ayoub said the Broncos had declared interest in Milford before he re-signed with the Raiders in November last year.
But Ayoub said formal negotiations hadn't commenced until after this year's November 1 anti-tampering deadline.
''Circumstances and timing of these things sometimes make it appear something untoward may have taken place, but certainly nothing untoward has taken place with anybody," he said.
''His decision has always been well beyond money.''
Milford is holidaying in Samoa after starring for the Pacific Island nation at the World Cup and is due to return to Raiders training in late December.
Stuart said he was confident Milford would remain focused.
''I've got no concerns at all that he'll be 100 per cent committed.''
The timing of Milford's announcement gives the Raiders a year to find a potential replacement at fullback.
The Raiders have previously shown interest in recruiting New Zealand representative fullback Kevin Locke, who also comes off contract with the Warriors in 2015.
Chris Wilson is the sports editor at The Canberra Times.