The opportunity to complete a rugby league apprenticeship under the NSW State of Origin halves combination was too good for Raiders under-20s captain Matt Frawley to pass up.
The exciting 19-year-old Canberra junior will learn his craft under Blues stars Josh Reynolds and Trent Hodkinson after signing a two-year contract with the Bulldogs.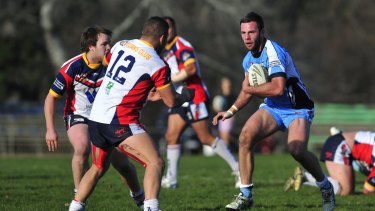 Frawley has put the disappointment of not being offered a new deal with the Raiders behind him after getting the news mid-way through last season.
He was one of the Raiders' most consistent players in the National Youth Competition and took out the team's coach's award.
It was a bounce-back season for Frawley after a sickening shoulder charge gave him bruising on the brain last year and ruled him out for three months.
Frawley played all of his junior football in the halves, but is also capable of moving to hooker as he did last year.
With Reynolds and Hodkinson having a mortgage on the No 6 and 7 jerseys, and Sharks recruit Michael Lichaa taking over at hooker, Frawley is under no illusions of the difficult task in front of him to crack the Bulldogs' side.
"I'm very happy to do my apprenticeship in the NSW Cup and learn from probably the best halves combination in the comp and the best coach in the comp in Des Hasler," Frawley said.
"If I'm playing good enough footy and they (Reynolds and Hodkinson) are playing Origin, there might be an opportunity for me.
"In terms of a fit for a young half, I don't think you could get a better club than the Bulldogs."
Training alongside the likes of Reynolds and Hodkinson is a far cry from last year.
Frawley was in hospital for three days after copping a brutal shoulder charge from Warriors fullback Viliami Kaveinga last year in an under-20s game for the Raiders.
Frawley had bruising on the brain and didn't play for three months, but it wasn't until this year that his confidence returned.
"I remember being in the ambulance with my mum and dad and waking up in hospital," Frawley said.
"It was very scary for mum and dad and for the whole family.
"I haven't had any complications and I'm all sweet now."
The Raiders informed Frawley mid-way through this year he wouldn't be offered a contract to a part of their NRL squad for next season.
"I put that behind me and moved on," Frawley said.
"I was always hopeful at the Raiders being a local junior and it's where my family and friends are, but I sort of knew early on, probably mid-season, that there wasn't going to be an opportunity for me.
"I accepted that and my manager was able to look elsewhere."
A product of the West Belconnen and Belconnen United Scholars clubs, Frawley had limited opportunities for the Raiders in their under-age teams.
He broke his collarbone in his first game in the under-16 Harold Matthews Cup before being stuck behind former Raiders star Anthony Milford and Carl Johnson in the under-18 SG Ball side.
"It's been an up and down journey and it's definitely made me more dedicated and more hungry to want to make it," Frawley said.
"Nothing's really been given to me, I've always had to work for it.
"It's no different now going up to the Bulldogs, I'm going to have to start again and I'll approach it the same way as I have the whole way through."
Lee Gaskin is a sports reporter at The Canberra Times.