Raiders junior Morgan Boyle aspires to carry on his father's famous name at the NRL club.
But three years ago his dad, David, woke from a coma, stared blankly at his only son, and couldn't remember who he was.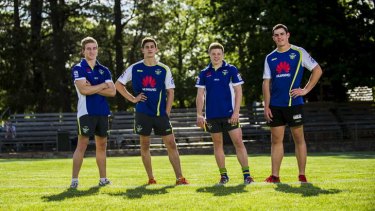 Three years after almost being killed in a farming accident, David Boyle, who played 117 games for the Raiders during 1990s, will be sideline to watch his 17-year-old son play his first game for the Green Machine.
"I'm really proud of him," David says, ahead of Morgan's first match for the Raiders Under 18s at Goulburn on December 7.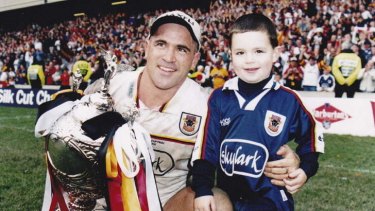 Three years ago, aged only 14, Morgan Boyle was already standing in as the man of the Boyle household, helping to run the family's 850 acre cattle property at Cobargo, on the NSW south coast, while his father recovered in a Sydney brain clinic from a farm accident that almost killed him.
David Boyle still doesn't know what happened, only that he was moving an irrigator.
But for an estimated six hours he lay alone and unconscious in a sodden cow paddock, until found by his father, Les.
Doctors presumed the cold weather and beanie he was wearing, pushed into his punctured skull near the temple, had stemmed the blood flow and kept him alive until he was flown by emergency helicopter to Canberra.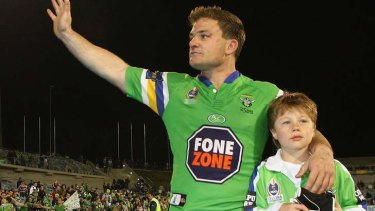 Doctors placed him in an induced coma, with no guarantee.
''It was surreal,'' Morgan recalls.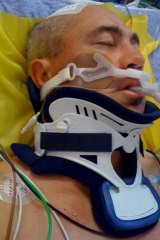 ''You see things on the tele and think that'll never happen to me or my family.
''When he was in his coma, the doctors couldn't tell us if he was going to wake up to be a paraplegic or if he'd be deaf or blind. That was hard to take.
''When he woke up I thought that would be it, but that was the start of it all. He just woke up and stared, he couldn't do much.''
David Boyle suffered post-traumatic amnesia, and spent almost four months at the Brain Injury Rehabilitation Unit at Liverpool Hospital.
''I was learning everyone's name again, I was calling my wife every name under the sun except Shelley,'' David says, his once muffled speech now fluent again.
''I had to learn the kids names again, I was really starting from scratch. I didn't know them.
''I was lost at the time, I didn't know what was going on.
''It probably wasn't so much a scary time for me, because I spent four months in gaga land. But it was probably a scary time for my wife, kids, parents and everyone who knew me. I'm still coming good really, but I'm alive and kicking.''
David Boyle has quit golf, one of his favourite past-times, frustrated his fine motor skills have not returned. He has slowly gone back to work on the farm.
The biggest ongoing concern, though, is insomnia.
''I can't go to sleep like I used to. It's the brain taking over,'' David says.
''For the past three years I've been to see every doctor around but I think it's coming to an end and I'll be able to get on with life again.''
Now David will add a treasured memory, watching his son wear a Raiders jersey for the first time.
Sister of Raiders great Jason Croker, Shelly Boyle met her husband, David, in 1994, the last premiership-winning year for the Raiders.
''It was a great year,'' she says, laughing.
''It is exciting and we're pretty proud that it's happening again, if Morgan makes the cut.''
Coached by his father since Under 6s, Morgan, a 105kg centre who the Raiders plan to groom into a mobile back-rower, has grown up fast.
The oldest of five kids, the only boy, he helped run the family's farm since he was 14. He was playing first grade on the south coast at 16 and is now doing an electrician apprenticeship as a back-up to his rugby league ambitions.
''It'd be good to bring the Boyle name back to the Raiders,'' Morgan says.
''To see what dad has done at the Raiders, how he made his name, for me to try and keep it going that'd be the best thing.''
Raiders development officer David Hamilton says he's got a good shot.
''He's a big human being, but he moves so well. He's got a bit to learn, but his work ethic is great.''
Under 18s Raiders coach Peter Marrapodi adds: ''he's been exceptional in training so far, the pick of the trainers in pre-season. He's a big kid, he's strong, he's athletic as well.''
David Boyle says he's just lucky to have been able to watch his boy come this far already.
''I think he can go a fair way, if he's willing to train hard and learn along the way. He's got good hands, he's tough and he'll do everything asked of him. I'm really proud.''
Morgan is part of the next generation of Raiders and NRL royalty to emerge in Canberra's Under 18 SG Ball squad.
Lachlan Lewis, nephew of rugby league Immortal, 'The King' Wally Lewis, has relocated from Brisbane to Canberra to begin a three-year deal with the Raiders.
Zac Woolford is son of former Raiders skipper Simon Woolford, while Lachlan Croker is nephew of Canberra's games record-holder Jason Croker.
Chris Wilson is the sports editor at The Canberra Times.