Raiders stand-in centre Joel Thompson has declared David Taylor ''is not Superman'' ahead of his mission to stop one of the most destructive players in the NRL tomorrow night.
Thompson has been shifted from the back row to the centres to replace the NRL's leading point-scorer, Jarrod Croker, who had surgery on his fractured cheek on Wednesday.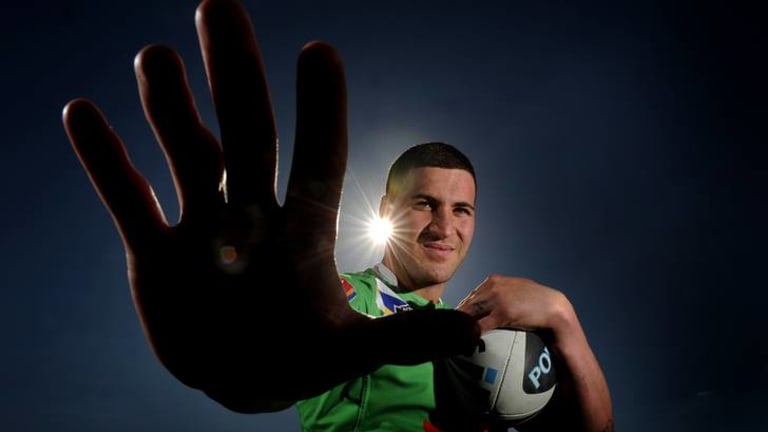 But Thompson's main task will be defensive, stopping a 122-kilogram Taylor and Souths superstar Greg Inglis, who tore Canberra's left-side defence to shreds earlier this season.
Thompson and Joe Picker will also play bodyguards for Raiders halfback Sam Williams, who was targeted and monstered by Taylor in the round 12 36-18 loss to Souths. Taylor scored two tries in an impressive performance in the Souths win.
''We've come a long way [since then], we'll take on any challenge that comes our way,'' Thompson said.
''You've just got to throw everything into him [Taylor], you can't go in like it's touch football.
''You've got to throw everything you've got in your shoulders into him and make sure you work together as a line.
''He is not Superman, we should be able to handle him. You've got to use everyone around you as well and they're dangerous as a whole side, so we can't just focus on him.''
Raiders coach David Furner is yet to decide on his starting line-up.
Thompson has ample experience as a centre, but Furner is also keen to keep the 24-year-old in the forward pack.
Either way, Thompson will have a significant role in trying to stop Taylor.
The Queensland State of Origin and Australian representative was well below his best in the Rabbitohs' final against the Melbourne Storm last weekend.
The Raiders expect he will bounce back to his best and target diminutive playmaker Williams.
While much of the attention has centred around Williams and Josh Papalii for their finals debut, Thompson is also a play-off rookie.
Despite making his NRL debut in 2008, Thompson had to wait until last weekend to play his first finals match.
He was sidelined with osteitis pubis when the Green Machine stormed into the second week of the finals in 2010 and played just one game in 2008.
But Thompson is primed for his challenge and backed Williams to be prepared for Taylor.
''With Sammy, I don't know if he's chucked on a few kilos or he's starting to have a dig,'' Thompson said with a grin. ''But he's throwing his body into everything and we're pretty confident in our defence.
''Sammy's a big boy, he can handle [the task]. We all have a role to play and I'll be helping out as much as I can.''
Picker has spent the majority of the season playing from the bench and had just 13 minutes on the field last weekend.
But the 24-year-old is itching for an increased work load and is adamant the Raiders have just as much strikepower as the dangerous Rabbitohs.
''Sammy's defence has been unreal this year and Joel is aggressive there as well,'' Picker said.
''I think it will be won up the middle because our edge is just as potent as their edge.
''We're probably not as big, but we're just as dangerous so I don't think it's going to be a problem.''

Chris Dutton is a sports reporter at The Canberra Times.
Morning & Afternoon Newsletter
Delivered Mon–Fri.