Old Canberrans into decider
Old Canberrans prevailed in a golden goal thriller to beat Central at the National Hockey Centre yesterday and advance to the women's Capital League grand final.
The Checks looked home with less than two minutes to play in regular time, holding on to a 1-0 lead, gained 10 minutes into the first half from a Juanita McDonald field goal.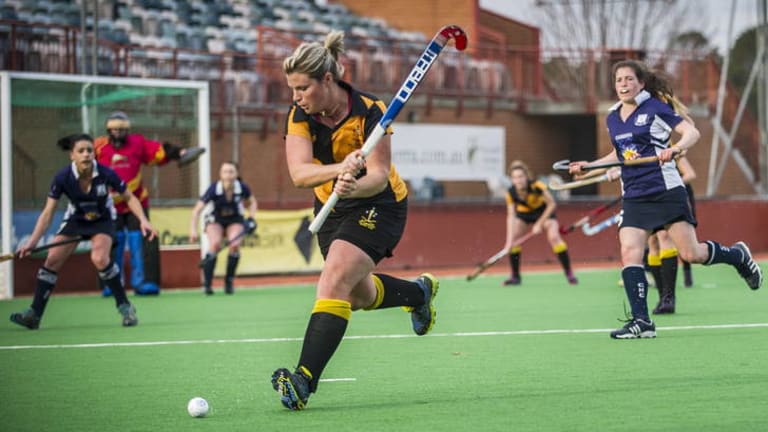 But a last-ditch attempt from Central, awarded a succession of three short corners in the final minute, provided the equaliser after regular time expired.
It was a rollercoaster of emotion for both sides, facing 20 minutes of golden goal extra-time, with Central to advance as the higher ranked team if no goals were scored.
''I said we need to keep our heads up, we needed to ensure that we didn't feel as if we let ourselves down in regards to letting that goal in,'' Checks coach Ray Dorsett said of his pep talk.
Dorsett had changed his side's defensive structure to ''steady a leakage of goals that had been occurring'', a tactic which had worked, but needed tweaking when a quick goal was vital. ''We wanted to create the first opportunity … we had to change things - we put an extra high striker up, that was Catriona [Bailey-Price], and that proved the winning formula for us,'' he said
It took five minutes of extra-time for Bailey-Price to create that first opportunity, a reverse hit sailing into the back of goal to seal the win for her side. It put an end to Central's season with parallels to its grand final exit last year, when it was University of Canberra that came from behind to force the extra time.
''Unfortunately sport's like that. You have a winner and a loser on the day,'' coach Andrew Tomadini said.
''Our girls showed good character to come back and snag that goal right at the end, it shows the character of the group. Even though [we] didn't get the result, the character there is more than you can ask for as a coach.''
Old Canberrans will play ANU in the grand final on Sunday.
Morning & Afternoon Newsletter
Delivered Mon–Fri.