Pocock's long road back
The top flanker is keeping his chin up, despite being denied two career goals, writes Chris Dutton.
ACT Brumbies star David Pocock arrived in Canberra on a Super Rugby finals mission but the champion flanker is instead coming to grips with the prospect of missing two of the biggest opportunities of his career.
Two months after a knee reconstruction, Pocock admits he's still getting used to being a ''nervous spectator'' as he watches two of his rugby goals elude him.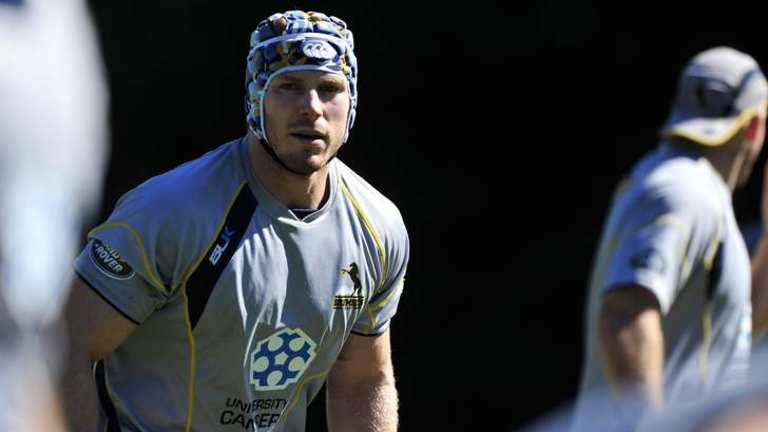 The Brumbies are mounting a charge to the play-offs, while the Wallabies are preparing to take on the British and Irish Lions.
They are two rugby achievements Pocock would desperately love on his sporting resume and he should be a crucial cog in both campaigns.
But a ruptured anterior cruciate ligament in March brought his season to an abrupt, heartbreaking halt.
Pocock is one of the best flankers in world rugby and spent seven years with the Western Force trying to break into the Super Rugby finals.
He moved to Canberra to be part of Brumbies coach Jake White's plan to build the club into championship contenders and they lead the Australian conference after 13 weeks.
Adding to the injury frustration is a missed chance to take on the Lions who tour Australia once every 12 years.
When the Lions return, Pocock will be 37 years old.
''I was bitterly disappointed to miss playing more of a role in the Brumbies' season and the Wallabies' year,'' Pocock said, speaking for the for the first time since his knee operation in March.
''It's disappointing. It's frustrating. But there's just nothing I can do about it, I've got to focus on my rehab and the things I can control.
''We've done very well to be where we are now [at the Brumbies] … but from now on the intensity and accuracy needs to go up a notch and I think anything's possible.
''When you're injured you do a lot of hard work during the week but you don't get the opportunity to enjoy the performance with the team … anyone injured will tell you it's frustrating.
''But I think I'm learning how to handle it a lot better.''
Pocock has taken on an unofficial mentoring role to help the young Brumbies prepare for a Wallabies call-up if they're needed in the Lions series.
He's two months into his rehabilitation and is aiming to start running again next month.
Pocock, 25, has endorsed returning Australian great George Smith to fill the No.7 jersey for the Lions series and the Brumbies' finals campaign.
His absence also catapulted Smith - a 32-year-old Brumbies stalwart with 110 Wallabies caps - into selection contention for the Lions series.
Some have questioned Smith's eligibility for Wallabies selection given he will return to play in Japan at the end of the Brumbies' campaign.
Wallabies coach Robbie Deans said last week Smith deserved special treatment after a decade of service to Australian rugby.
''When you see how much the Brumbies' crowd loves George and appreciates what he's done for the game, those sorts of players don't come along that often,'' Pocock said.
''George has been brilliant, he's as good as he was when he left. For his experience he needs to be there against the Lions. I think he's probably smarter and, in terms of a coaching move in hindsight, it was absolute genius by Jake to get him here.''
Pocock briefly toyed with the prospect of having the revolutionary LARS surgery, which can have players back on the field three months after the operation.
It could have had him back in time to play some sort of role in the three-Test series against the Lions and the Brumbies' bid to break an eight-season play-off drought.
But after consulting with respected surgeon Peter Myers, Pocock decided a traditional reconstruction and a nine-month recovery was best for his long-term future.
He has started some weight-bearing training, but won't start running until three months into his recovery.
Pocock is drawing inspiration from Brumbies teammate Matt Toomua's impressive comeback from the same injury last year and has spoken to ACT captain Ben Mowen and Wallabies scrumhalf Will Genia to map out his likely return.
''This is the first long-term injury that's kept me out for a season that I've had to deal with,'' Pocock said.
''I haven't started jogging yet, it still gets a bit sore but seeing the way Matt Toomua has come back and how physical, he's been outstanding and gives me confidence.''
Chris Dutton is the sports editor at The Canberra Times.