Sky's the limit for those Bourne to fly
It's enough to, literally, make your head spin.
That is, sprinting up Australia's tallest building, going round and round for 88 storeys and rising between 1700 and 1800 stairs before reaching the summit.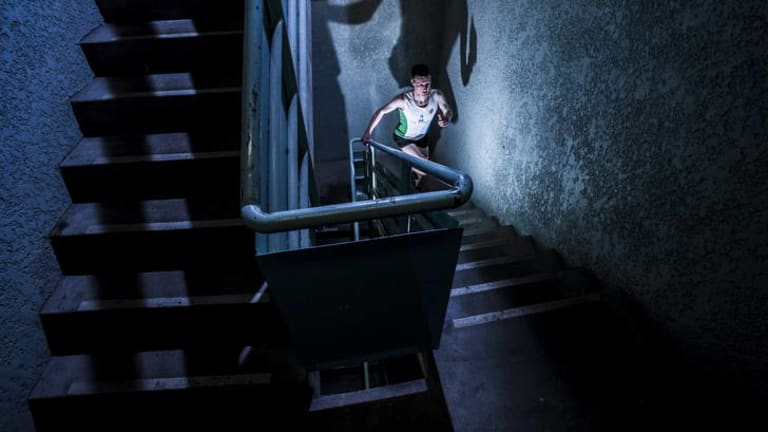 All up about 8½ minutes.
It's lucky Mark Bourne doesn't have a fear of heights, or suffer from dizzy spells.
Having already conquered New York's Empire State Building and the Taipei 101, which until two years ago was the world's tallest building, the 29-year-old is preparing to defend his title at the Eureka Climb in Melbourne on Sunday.
The public servant has been using the stairwell of a Canberra building as part of his training, simulating the effect of climbing skywards in an enclosed space.
''I don't find I get too dizzy, it's more pain really and trying to keep pushing through and keeping your momentum going,'' Bourne said.
''You find little goals, get to halfway or 20 flights to go.
''Just trying to find things that distract you from the true scale of the whole climb.
''You can't block it out, really.
''You just try and have the best preparation you have, making sure you have good strength in the legs to keep that pace up.''
Bourne has a cross-country background, winning the Australian under-20s title in 2002 and the Australian Mountain Running championships in 2009.
He was also the first Australian home and 34th overall at the World Mountain Running championship in 2007, but he found his true calling three years ago when he finished in second place in the Sydney Tower Run-Up.
Victory in last year's Eureka Climb earned him an invitation into the Empire State Building event in February.
An impressive third place gave Bourne the confidence he could hold his own against the best in the world.
That was proven true when he won the Taipei 101 Run-Up in June, a race up 91 floors and more than 2000 stairs.
The Taipei 101 was the world's tallest building from 2004 until 2010, when it was overtaken by the Burj Khalifa in Dubai.
''It's a bit tougher also because the stairs are a little bit steeper, so it's different to what you're used to,'' Bourne said.
''You actually gain quite a bit more of altitude over 91 floors.
''I chose to go over just to see what I could do against the international competition.''
Morning & Afternoon Newsletter
Delivered Mon–Fri.