The Central Coast Mariners survived a second-half resurgence from Canberra Olympic to get their Canberra excursion off to a winning start.
The A-League side raced away to a 3-0 advantage before a Robbie Cattanach double ensured a thrilling finish at Gungahlin Enclosed on Tuesday night.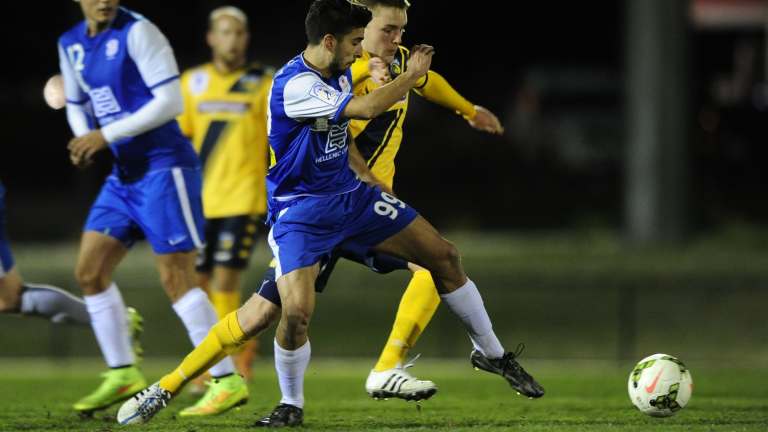 The Mariners will still be able to take plenty of positives out of the 3-2 result, with only eight contracted players taking the pitch along with four triallists, including Gungahlin United's Irish midfielder Shane Murray.
Olympic can also be duly impressed with the mid-week hit-out ahead of Sunday's crucial ACT National Premier League encounter with Gungahlin United.
The remainder of the Mariners' squad will suit up for Thursday night's match with Gungahlin United.
The Mariners had barely got out of their warm-ups before Mitchell Austin pounced on a loose back pass from the Olympic defence to open the scoring in the fifth minute.
Three minutes later, Tom Bentham didn't hurt his chances of securing a full-time contract when he produced a fine strike to double the Mariners' advantage.
Another recruit, Jake Adelson, should have put the result beyond doubt when he beat two defenders to get into the box, but Olympic goal-keeper Angelo Konstantinou was up to the challenge with a terrific stop.
Olympic midfielder Tom McLachlan unleashed a cracking strike from 20m out, forcing Mariners shot-stopper Paul Izzo to tap it over the bar.
Callum Smith had another golden chance for Olympic, but his shot was high and wide as the Mariners took a 2-0 lead into halftime.
It took just four minutes after the break for the Mariners to get their third, Matt Sim cleaning up a poor clearance from the Olympic defence.
Olympic should have scored in the 56th minute, but Mariners defender Michael Cvetkovski put enough pressure on Jordan Tsekenis to force his shot wide in front of an open net.
It was a similar story for Cattanach, the Olympic midfielder having his shot saved by the legs of Izzo.
Izzo pulled off an acrobatic save to deny Daniel Colbertaldo, but couldn't deny Cattanach on the rebound to put Olympic on the board in the 68th minute.
Olympic continued to push, Adrian Macor going within a coat of paint of reducing the deficit, his shot smashing the left goal-post and staying out.
Cattanach ensured a thrilling finish when he scored in the 89th minute, but the Mariners hung on.
It was the first of three A-League friendly games in as many days in Canberra.
Sydney FC will take on Belconnen United at McKellar Park on Wednesday night.
Pre-season friendly: Central Coast Mariners 3 (Austin 5', Bentham 8', Sim 49') bt Canberra Olympic 2 (Cattanach 68', 89') at Gungahlin Enclosed on Tuesday night.
Lee Gaskin is a sports reporter at The Canberra Times.