She's spent more than 30 hours on planes in the past week, but goalkeeper Lydia Williams says she's ready to lead Canberra United's charge back to the W-League finals.
The Australian Matildas representative is back in the capital after a whirlwind week that took in four countries before arriving home. And after injury forced her to miss the W-League campaign last season, Williams revealed she turned down offers from rival clubs to try to chase her second championship in Canberra after the success in 2011-12.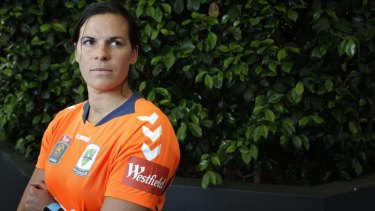 The last two members of the Canberra United squad - Williams and Kendall Fletcher - arrived in the capital on Wednesday, just 10 days out from the W-League opener against Brisbane.
Williams has spent most of this year playing in Sweden and rediscovering her best form after a knee reconstruction kept her on the sideline for 11 months.
But she is back to her peak and confident United can clinch another title. ''This is an important season for me, just to feel more confident in myself,'' Williams said.
''I just want to prove to everyone that I can come back as good as before. We want to start with a bang in round one. I think we can pull it off, we just have that mentality as a team.''
Williams was playing with Pitea IF in Sweden, while Fletcher was with Vittsjo, also in Sweden.
Before arriving in Canberra, Williams made a 20-hour round trip from Sweden to the US for the Matildas' clash with the US. She then flew from Stockholm to Canberra and will be given until Monday before she starts training.
New coach Liesbeth Migchelsen has just 10 days with her full squad to prepare for the season. She is taking the team on a bonding trip this weekend and hopes to have a captain finalised by Monday, with incumbent Ellie Brush the favourite to keep the role.
United missed the finals for the first time last season, which was painful for foundation player Williams to watch.
The 25-year-old said she had to distance herself from the club to ensure she could get a fresh start on her return.
''There were offers from other clubs this year, but Canberra is my home. This is the best place for me,'' she said.
''I was tempted, but it was more flattery than anything. I do feel like I'm coming back a better player, so hopefully I've got a bit of an edge over the other keepers.''
Migchelsen is unfazed by the short preparation for her team.
Williams and Fletcher arrived on Wednesday, while US import Lori Lindsey got to Canberra at the start of the week.
''We'll train together on Monday … we'll give the girls that travelled a bit of rest and then start fresh,'' Migchelsen said.
''They are all professionals and they've embraced the system. I think we'll be prepared for the Brisbane game.''
Chris Dutton is the sports editor at The Canberra Times.