The ball's in Kyrgios' court - he can learn from Tomic's mistakes
Young, brash, oozing talent and the next big thing - sound familiar in the Australian tennis world?
No, I'm not talking about Bernie Tomic. He's old news.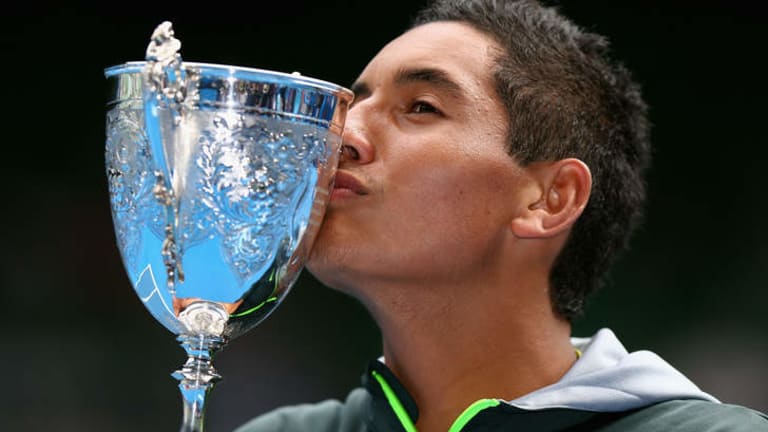 I'm more interested in Nick Kyrgios - the Canberra kid who is the junior world No.1 and just claimed his first major singles title.
But what I'm really interested in is seeing how Tennis Australia handles ''our next big thing'' and if they treat him differently to Tomic.
The problem with great talent and junior success is that the fans' expectations go through the roof.
With Kyrgios bursting on to the stage with his win at Melbourne Park on Saturday, people are going to follow his journey.
The pressure increases and the spotlight is brighter.
Everyone's different in how they handle it, but there's little doubt you need self-confidence and a bit of spunk if you want to make it all the way to the top.
Maybe the zig-zag shaved on the side of Kyrgios' head is his way of showing he's got what it takes to stand out from the rest.
What's been interesting is the silence from the top on Kyrgios. Former Canberra player Wally Masur is a massive fan, but The Canberra Times had requests to Pat Rafter and Pat Cash to talk about Kyrgios. Both were turned down by media staff.
It could just be that they were busy. But maybe Rafter and Cash are biting their tongues on Kyrgios' talent and his future.
Rafter has already used Kyrgios as an orange boy for the Davis Cup and I'm sure he's full of praise and hope for the 18-year-old.
Tomic has already had a major run-in with Rafter, the Davis Cup captain, and he's only 20 years old.
In the past he's had issues with Lleyton Hewitt, whose attitude on the court, at times, puts him offside with the Australian public.
Kyrgios hasn't experienced the same exposure yet. But if he keeps winning - and everything suggests he will - a time will come when he's the man in the spotlight.
One of the greatest assets Kyrgios has is Tomic.
Tomic arrived on the scene when Australian tennis was at its lowest ebb (most will argue it hasn't recovered yet).
He was the kid who needed to take over from Hewitt and everyone wanted and expected him to do so quickly.
But when you're a teenager with millions of dollars and the world at your feet, distractions are plenty.
Kyrgios can learn from Tomic's mistakes.
The pair have spent time together in the Davis Cup and became friends.
Now, with only a couple of years separating them, they could forge successful careers alongside each other.
Sports of all sorts
The Prime Minister's XI will kick off a massive three weeks of sporting action in Canberra.
Ricky Ponting will get a farewell match under lights at Manuka Oval on Tuesday while Chris Gayle tries to ignite the crowd with his big hitting.
If that gets you interested, prepare for a bumper few weeks.
The Australian team will take on the West Indies on February 8 before the women's Australian Open at the Royal Canberra Golf Club and the start of the ACT Brumbies season on February 16.
The new lights at Manuka Oval will create a superb atmosphere.
Let's just hope the summer thunderstorms don't ruin a great night out.

Chris Dutton is a sports reporter at The Canberra Times.
Morning & Afternoon Newsletter
Delivered Mon–Fri.