Per Daniel Goransson didn't think he would ever lace up his skates again when he moved from Stockholm to Perth for university.
But that was seven years ago, and now all the Canberra Brave's new recruit can think about is getting his hands on "that damn cup" - the Australian Ice Hockey League's Goodall Cup.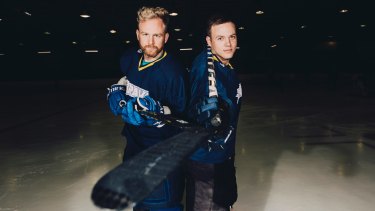 However the imposing defenseman won't be there when the Brave open their season against the Sydney Bears at the Phillip Swimming and Ice Skating Centre on Saturday.
Before he dons the blue and gold of Canberra, Goransson will suit up for Australia alongside Brave teammates Kai Miettinen and Wehebe Darge in the International Ice Hockey Federation world championship division II against Iceland in the Netherlands on Monday.
The former Perth Thunder enforcer thought his career was over before an Australian lifeline gave the 32-year-old a new lease on hockey, now a new job and a new hockey team has landed him in the capital.
"If you would have asked me in 2011 if I would have played ice hockey ever again, then I would have said 'no way'," Goransson said.
"I guess everything happens for a reason. I came to Perth to study, I got a job and throughout my university degree I got to know the GM from the Perth Thunder.
"It took them a couple of years to get me to lace up again and I did, and here I am. I had eight years off ice hockey because of a few injuries.
"It's going to be obviously something new for me. I got my citizenship last year so this is going to be my first tournament, so I'm super stoked."
Australia will play in the group A tournament in Tilburg with the squad holding a training camp in the Czech Republic to prepare.
But things went awry pretty quickly when the airline lost the Australian team's luggage.
"We came to Czech Republic without any luggage. We didn't have anything for one and a half days," Goransson said.
"We were a bit unlucky, we couldn't do anything - no underwear, no skates, nothing. Everything came so we only missed two or three practices, so it could have been beneficial. We got one day extra rest.
"The boys from Canberra, we had to take the bus from Canberra, fly to Bangkok, Bangkok to Dubai, Dubai to Prague. It was almost like two days of constant flying."
Goransson's family will travel from Sweden to the Netherlands to watch him play for the first time in about 10 years before he returns to Canberra for the third weekend of the AIHL.
He headlines a host of new faces on Brave coach Rob Starke's roster, with the club signing five imports including former NHL back-up goaltender Matt Hewitt, and Melbourne Ice duo Joey Hughes and Darcy Flanagan.
"I think we've assembled a team that is capable of winning the cup but they will also bring an entertaining brand of hockey to the ice," Starke said.
"We have more depth than ever amongst our Australian players and the strongest line-up of imports ever seen in Canberra."
Matt Harvey will take the captaincy reins, while Darge, Miettinen and Jordie Gavin have been named as the club's alternate captains.
AIHL ROUND ONE
Saturday - Canberra Brave v Sydney Bears at Phillip Swimming and Ice Skating Centre, 5.30pm.
Caden Helmers is a sports reporter for The Canberra Times