Canberra's Annabelle Lindsay grew up dreaming of playing basketball for Australia but the Paralympic Games was never on her radar.
That was before injury struck and left her unable to play able-bodied basketball, and now the wheelchair format has Lindsay on the path towards Tokyo in 2020.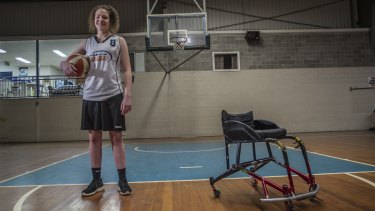 Lindsay was an elite junior player and made her SEABL debut for the Canberra Capitals Academy as a 15-year-old, but she had already been battling knee problems for three years.
During the last round of SEABL in 2015 she dislocated her knee during training, and after surgery was told she'd be back on the court in four months.
Nine months passed and she still couldn't run, jump or bend her knee - she had arthritis and almost no cartilage left in her knee.
Lindsay was shattered - losing basketball had her feeling like she'd lost a big part of herself.
As if it wasn't hard enough to cop, she had just signed a letter of intent to attend Minord University to play basketball in the United States.
Lindsay heard about the Canberra Chargers, a wheelchair team in the capital, and within four months she was at her first Australian camp - soon after she was playing for the Australian Gliders.
"That was one of the best things ever," Lindsay said.
"When I was younger I used to love watching the Opals play, I had an Australian jersey and that was always one of my goals.
"Unfortunately I wasn't up to it as an able-bodied athlete. To get this injury and think my career is over, and actually be given more opportunities than I had as an able-bodied basketballer is amazing.
"I have this very real possibility to play at a Paralympics which I never thought would be possible."
Lindsay can walk around but she's only able to play in a wheelchair, and she made her first move towards the Tokyo Games by playing in a national tournament in April.
Lindsay and Australian Rollers staple Tim Markcrow took on a host of special guests in an exhibition game before the Canberra Capitals' kicked off their pre-season campaign on Friday night.
Former Canberra Capitals championship winner Tracey Beatty was among a host of special guests playing in the game and Lindsay laughed the WNBL life member's arms "were quite sore by the end".
Caden Helmers is a sports reporter for The Canberra Times