Canberra Olympic's dream week took another twist on Sunday night when a dramatic comeback and a penalty shootout booked their place in the Capital Football premier league grand final.
Olympic had to reach deep into the energy well for a 120-minute thriller just three days after they won a spot in the FFA Cup quarter-finals.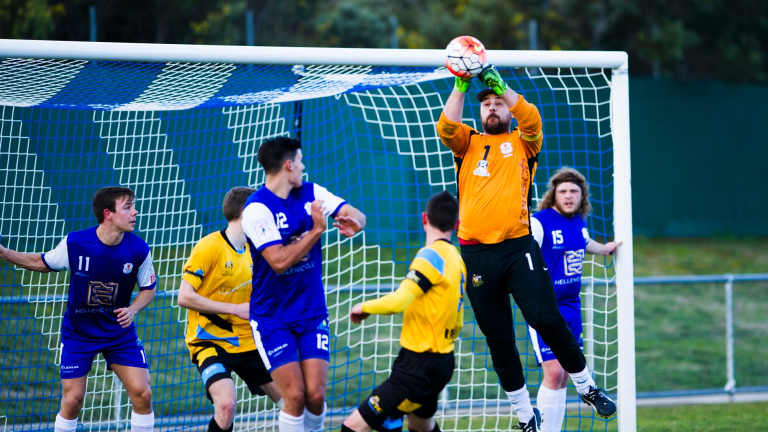 But they will have to chase a grand final win without goalkeeper Angelo Konstantinou, who will fly to Colombia on Wednesday to play for Australia in the futsal World Cup.
Konstantinou sent social media into a spin last week when he became the first goalkeeper to score in the FFA Cup by slotting a penalty shot.
He stepped up as the potential hero again in extra time against the Cooma-based Tigers, but sent his shot sailing over the bar to almost end his season in heartbreak.
But the veteran got a sweet ending to his premier league season when Olympic won a penalty shootout battle 5-3 at McKellar Park.
"I was never worried with the boys, they knew what to do. We've played a lot of games in the last few weeks," Konstantinou said.
"It's definitely mixed emotions [to his season being over], but you can't knock back a chance to play for your country, no matter what."
Olympic will enjoy a well-earned break next weekend after equalising against the Tigers in the dying minutes to send the match into overtime.
The Tigers held a 2-1 lead and appeared certain to be going through to the grand final with just four minutes left in the major semi-final battle.
That's when star Olympic striker Phillippe Bernabo-Madrid stepped up when his team needed him most and scored in the 86th minute to send the match into 30 minutes of extra time.
Konstantinou had the best chance to steal the match just two minutes after the restart when Olympic was awarded a penalty shot.
However, his missed opportunity sent the arm wrestle into a tense shootout and Olympic held their nerve and a missed Tigers attempt opened the door for victory.
The win capped off a stunning two weeks for the O'Connor-based Olympic, who have won the league championship for finishing the regular season at the top of the ladder, became the first Canberra team to make the FFA Cup quarter finals and sealed a grand final berth.
"We've had three massive, massive games and high-pressure games [in a week]," said Olympic coach Frank Cachia.
"It's like Christmas getting a week off because we haven't really trained, we've just been playing. I played during some good times at Olympic, but I can't remember an opportunity like this."
The under-manned Tigers had just two substitutes on the bench and had to send their reserve goalkeeper on in extra time to bolster their side.
They will apply to Capital Football to allow them to promote some of their reserve grade or under-20s players to the premier league when they play Canberra FC next week in a bid to keep their year alive.
Olympic finished the match with just 10 men on the field after Adam Rogic went off injured while Jack Pettit will take the goalkeeping duties for the grand final in Konstantinou's absence.
"I'm very proud of my boys, we had eight players out and to lose in a shootout … that's soccer," said Cooma coach Gaby Wilk.
"At the end I needed our reserve goalkeeper on the field because of the rules and regulations, so we'll see what we can do with that in bringing in players."
In the elimination semi-final, Canberra FC cruised to a 4-0 win against Belconnen thanks to a Thomas James hat-trick to stay in contention for the premiership.
AT A GLANCE
Capital Football semi-finals: CANBERRA OLYMPIC 2 (Robbie Cattanach 14', Phillippe Bernabo-Madrid 86') bt TIGERS FC 2 (Julian Borgna 30' own goal 39') on penalties 5-3, CANBERRA FC 4 (Thomas James 7', 48' 59', Jordan Lamb 50') bt BELCONNEN UNITED 0.
Correction: An earlier version of this article said Belconnen United beat Canberra FC.
Chris Dutton is the sports editor at The Canberra Times.