When Merici College captain Olivia Straker set about establishing an Australian rules team, she was preparing for mission impossible.
Fast forward a couple of months and Merici College will enter a team into the AFL Canberra youth girls competition, becoming the city's first all-female Australian rules club.
With women's football enjoying a surge in popularity following the advent of the AFL Women's competition, Straker took it upon herself to build a team - so she fired off an email to AFL Canberra.
The reception has been staggering - the school has been overwhelmed by the number of girls expressing interest and they were visited by a trio of Greater Western Sydney plays at Merici College on Friday.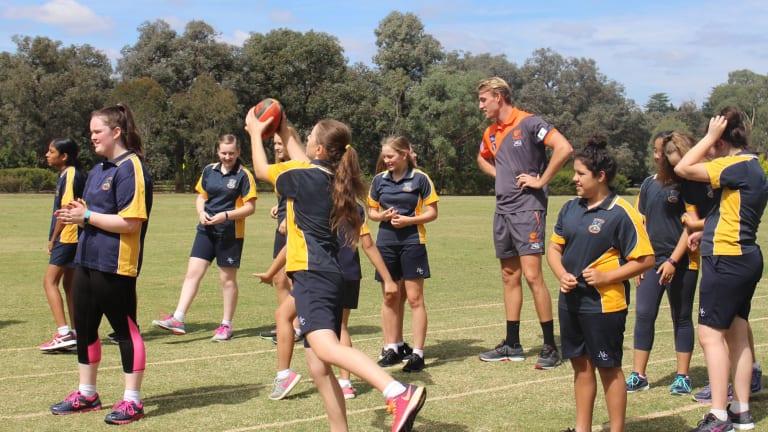 Giants trio Jeremy Cameron, Jeremy Finlayson and Lachie Keeffe ran clinics at the school which were almost enough to make Collingwood die-hard Straker jump ship to GWS.
"I have always wanted to play for a team but I didn't really know who to play for," Straker said.
"I used to play when I was a lot younger, I have a brother that plays, I go for Collingwood which has always inspired me - it's a bit controversial there - to get into it.
"Originally I'm a netballer and touch footballer as well, so it's very different but I think it's really good to get out there and have a go.
"A lot of the girls here, they're not very experienced, but as it is a new up and coming sport we're all very interested in playing and seeing how that will go."
AFL Canberra have played a huge role in getting Straker's vision off the ground, while the college is forging a relationship with the Ainslie football club.
Cameron says the GWS dynamic has changed significantly in recent years with an AFLW team - which will play the Western Bulldogs at Manuka Oval on March 10 - and a Super Netball team.
He believes the growth of the women's game has worked wonders for the sport.
"We've come a long way from the very start," Cameron said.
"I was just talking to a couple of other players about how we went out to a few clinics in my early days when the Giants first started.
"The girls were interested but not quite sure about the whole thing and now it has definitely taken off. Five, six, seven years later, now the women are in the AFL and it has taken off in more ways than one and the girls are really getting stuck into it."
Caden Helmers is a sports reporter for The Canberra Times