Royals stamped themselves as one of the greatest teams in John I Dent Cup history after completing a perfect season with a grand final triumph on Saturday.
Coach Wayne Southwell praised his players for capping off a "season they'll remember for the rest of their lives" by beating Wests 28-12 at Viking Park.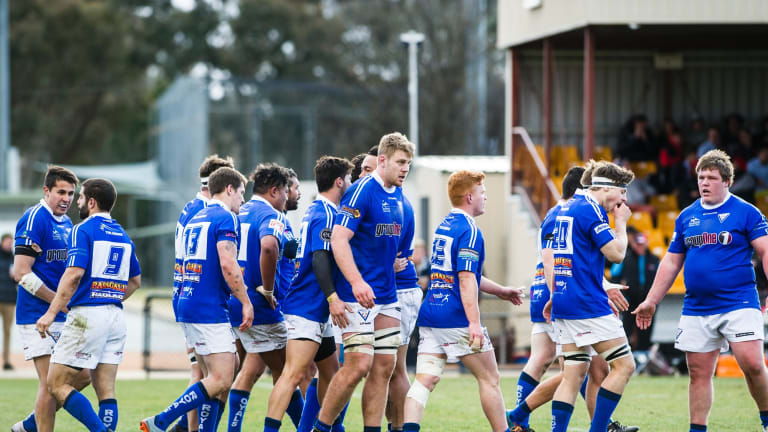 Royals joined an elite group of the best teams in the competition's history by becoming the first team since 2004 to become unbeaten premiers.
It was a sweet end to a near flawless year after failing to make the finals last season.
"This is something these guys will remember forever," said Southwell, a multiple premiership-winning coach.
"Premierships are important, but to do it the way we did it - that's special. Very special. The whole squad has been fantastic.
"I think it's the most enjoyable year I've ever had. It's such a tight group of guys, they'll enjoy this that's for sure."
Royals have now won two of the past three grand finals after ending a 24-year premiership drought in 2015.
ACT Brumbies flanker and joint Macdougall Medallist Tom Cusack was outstanding, adding another award to his impressive season when he was named man of the match.
But Royals didn't have it all their own way as Wests lifted for a chance to cause the biggest upsets of the season.
Wests scored the first try of the game when scrumhalf Chris Ashmore dashed over from close range, but Royals booted a penalty goal on half-time for a 6-5 lead at the break.
Royals took control from that moment and scored three unanswered tries before Wests crashed over for a consolation five-pointer in the dying minutes of the game.
Both teams were missing key players, with Wests prop Ben Coutts and Luke Kimber suspended after accumulating three yellow cards during the season.
The absence of Coutts hit hardest, with Wests rotating through three different tighthead props to try to fill the void.
"They were just too quick in the last 20 minutes, they're pretty explosive," said Wests coach Craig Robberds.
"Our boys really lifted this year, we had a great group. It's tough to take now and it does hurt, but you can't take anything away from Royals."
Hundreds of Royals fans packed the hill at the southern end of the ground and a second-half demolition sparked wild celebrations for the Phillip-based club.
The premiership triumph was the perfect way to send out several players leaving Canberra at the end of the year, including Brumbies lock Tom Staniforth who is set to move to the NSW Waratahs.
"This is unbelievable. I love this club, I've played juniors for Royals and this is sweet," Staniforth said.
"It's something special. We didn't speak about staying unbeaten, it was just about enjoying it and great to be a part of it."
Cusack, Ben Johnston and Jason Swain scored tries for Royals while scrumhalf Pedro Rolando finished with a 13-point haul after three penalties and two conversions.
"We deserved that win with the way we've played all year," Johnston said.
"I'm just stoked we could pull it together and showed everyone what we were capable of. From where we have come from, it's amazing.
"No one gave us a shot at the start of the year, but this group had belief and to not lose a game is phenomenal."
The Wests loss was heartbreak for departing Brumbies playmaker Nick Jooste, who admits he doesn't know what his future holds after failing to make his Super Rugby debut in two seasons in Canberra.
A shoulder injury forced a devastated Jooste off the field in the second half, but he's hopeful he can ignite his career in the coming years.
"It's pretty emotional. I'm sad to be leaving but that's how footy works, hopefully there are bigger and better things to come," Jooste said.
"We showed in the first 40 we were right with them, if not ahead. But we couldn't maintain it and credit to Royals, they've been the best all year."
AT A GLANCE
John I Dent Cup: ROYALS 28 (Jason Swain, Tom Cusack, Ben Johnston tries; Pedro Rolando 3 penalties, 2 conversions) bt WESTS 12 (Chris Ashmore; Junior Luteru tries; Joel Astle conversion). Man of the match: Tom Cusack.
Women's: Royals 29 bt Tuggeranong Viqueens22. Player of the match: Darcy Read.
Second grade: Queanbeyan Whites 26 bt Tuggeranong Vikings 15. Man of the match: Josh White.
Colts: Queanbeyan Whites 17 bt Gungahlin Eagles 11. Man of the match: Justin Sikimeti.
First division
First grade: Gungahlin Eagles 20 bt Tuggeranong Vikings 14. Man of the match: Brendan O'Neill.
Second grade: Tuggeranong Vikings 38 bt Queanbeyan Whites 0. Man of the match: Tim McCarthur.
Chris Dutton is the sports editor at The Canberra Times.