Australian coach Sandy Brondello has christened Ezi Magbegor "the future of the Opals", forecasting a "very long and successful career" for the Canberra Capitals' brightest young star.
Brondello will cast an eye over Magbegor when she visits Canberra next week, and the pair will link up again in an Opals Commonwealth Games camp at the AIS European training centre in Italy in February.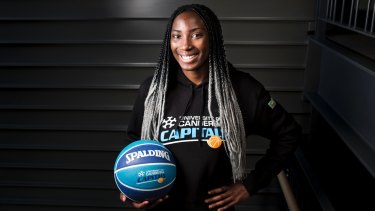 Eighteen-year-old Magbegor was named in the preliminary squad for the Gold Coast Games alongside 34-year-old Capitals captain Nat Hurst, proving age is no barrier to international selection.
Brondello was once in Magbegor's shoes when she received a national team call-up at the age of 18, before going on to play 302 games - an effort only bettered by Robyn Maher and Karen Dalton.
The future of Australian basketball is a title Magbegor would rarely have dreamed of, especially considering she was born in New Zealand to Nigerian parents Patience and Appolus.
Now Brondello has urged the promising Capitals forward to maintain the fearless approach that has seen her quickly become a force to be reckoned with in the WNBL.
"Ezi, she is the future of the Opals in her position with her athleticism," Brondello said.
"I just thought she's different to what we have in the group there so it would be great to get her involved there. I look forward to seeing what she's got.
"She's so young and she's someone that's going to get better and better with the more opportunities and the more experience she has. I'm very excited about her future.
"I'll be telling her I just want her to come in and play, don't over think things. I've been there, I first made my Australian team when I was 18 and it can be a little intimidating with the older ones.
"It's more [a matter of] just come in and play and keep getting better, don't over think things and don't be tentative. That's the only way you can improve.
"Sometimes you have to learn from mistakes, she'll make mistakes, we all make mistakes. She has a lot of great attributes to her game and she is going to have a very long and successful Opals career ahead of her."
Seven-time WNBL championship winner Hurst thought her Opals ambitions were nothing more than a pipe dream after she missed world championship and Olympic Games selection.
But she was called into an Australian camp in May, and stands head and shoulders above the rest of the league with an average of 6.88 assists per game - the next best is five.
"Nat's just a hard-nosed player. Obviously she's a veteran, she's very experienced, she has that leadership quality," Brondello said.
"She still plays at a high level, she's very tenacious in that point guard spot. She knows how to pass the ball and get other people involved but also able to knock down that open shot, particularly that three.
"She's warranted her selection in that and I'm looking forward to seeing what she's got."
Magbegor and Hurst will look to ride a wave of momentum into Canberra's clash with the Bendigo Spirit at Bendigo Stadium on Thursday night.
Caden Helmers is a sports reporter for The Canberra Times