Alive with the sound of movies
Sally Whitwell used film music as inspiration, Ron Cerabona writes
Musicians often talk about ''second album syndrome''. Sally Whitwell might have been forgiven for doing so, too. The former Canberran's debut CD, Mad Rush, featuring music of Philip Glass, won the 2011 ARIA Award for best classical album. But she quickly channelled her energies into a follow-up which has recently been released.
Whitwell says The Good, the Bad and the Awkward is ''a cinematically-inspired album and a character-driven album … a look at all my favourite characters from films I've loved for quite a few years''.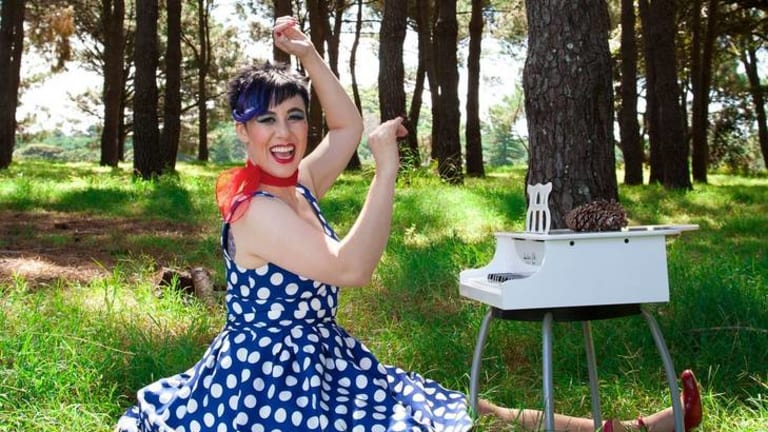 She wanted to perform pieces that ''I felt encapsulated the essence of the characters and situations. All of them were used in the films so they're quite specific.''
Some are pieces of classical music; others are from original film scores and she associates each of them with a particular character, grouped into three categories (as per the album title). It's an eclectic selection of movies and music ranging from the Prelude in C Major from J.S. Bach's The Well-Tempered Clavier Book I used in Baghdad Cafe to Russian Rag by Elena Kats-Chernin used in Mary and Max.
There's a Glass connection: she plays some of the composer's music for the film The Hours, as well as excerpts from scores by other ''pop minimalists'' such as Michael Nyman (The Piano) and Yann Tiersen (Amelie).
Initially, Whitwell says, it was proposed she do an album of music from French movie soundtracks as her second recording. But while she loves French films, particularly the period in the 1960s when filmmakers such as Francois Truffaut were prominent (''a golden age of French cinema'') she didn't find enough of them that spoke to her for a full album. So, although she played pieces from such films as Delicatessen and The City of Lost Children, she decided on a broader, more thematic categorisation.
''ABC Classics was cool with it,'' she says.
While most of the tracks feature piano, on some, such as the Epilogue, her own arrangement of Ennio Morricone's title theme from The Good, the Bad and the Ugly go well beyond; on it, she plays not only piano but toy piano, harpsichord, recorder and melodica through the wonders of technology.
''It was available,'' she says.
''It was a first for me … a very educational experience.''
Late last year Whitwell prepared many of the scores - ''I felt they didn't have the kind of shape I would like them to have and so I modified them myself. I'm glad I did it that way; it became something from me directly.'' Then she recorded the album during a week in February - ''It was a very intense period of recording'' - and now it's been released.
''I'm very happy with the way it turned out,'' she says.
Born and bred in Canberra, Whitwell, 38, says, ''I hardly remember a time when I didn't play something.'' She studied bassoon and piano but, at 16, began focusing on the latter.
She attended Canberra Girls' Grammar School and went on to what is now the Australian National University School of Music.
''Poor old ANU School of Music,'' she says in relation to its recent, well-publicised troubles.
''I feel it is very sad what's happening … I feel very thankful for the education I received.''
After graduating, she travelled then did further study at the Sydney Conservatorium (a graduate diploma in accompaniment). ''I nearly enrolled in a masters afterwards,'' she says, ''but thought better of it.'' She says she asked herself, ''Do you want to keep studying or do you want to get out there and do it?'' and decided on the latter. She's been a long-time accompanist for the Sydney Children's Choir and other groups.
And for her third album?
''I would like to record some of my own compositions,'' she says.
■ The Good, the Bad and the Awkward is available on ABC Classics.