Kathrada 50/25 review: Liz Lea pays homage to anti-apartheid activist
Kathrada 50/25
QL2 Theatre, Gorman Arts Centre, November 1-2.
Ahmed Kathrada is a South African-born politician of Indian descent who was imprisoned for 25 years in some of South Africa's most notorious maximum security jails because of his anti-apartheid activities. Liz Lea's latest work, Kathrada 50/25, pays homage to this man. It draws on a variety of sources, including Kathrada's letters and other writings, and anti-apartheid slogans and newspaper headlines. It also draws on artists from a range of disciplines and genres of dance to put forward its message.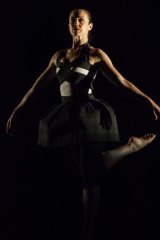 Lea herself begins the story with a kind of burlesque introduction and a solo that displays a very eclectic dance vocabulary. Bobby Singh, tabla player, appears live and his recorded voice speaks Kathrada's words.
After the interval we see the GOLD group, Lea's company of mature-aged dancers. They dance and speak about their experiences over the time of Kathrada's imprisonment. Some tell us they demonstrated against the infamous Springbok rugby union tour of 1971, for example. This segment was interesting as a look back in time, but I have written elsewhere of the problems of combining the GOLD group in a program with other dancers. It doesn't show the GOLDs in the most advantageous light. They need to be on a program by themselves when the intrinsic value of their work is more obvious. The latest film by Sue Healey, The Golds, recently given a world premiere in Canberra, shows the value of this group as a stand-alone company.
Next on the program is a solo, Freedom, performed by Shruti Ghosh in the Kathak style of Indian dance. It is followed by Kaught, danced by Lea, again with a movement vocabulary crossing genres. The evening ends with a hugely entertaining segment of African drumming and tribal-style dancing by Troupe Olabisi.
Kathrada 25/50 is an extraordinarily diverse piece of dance theatre. But, while the individual segments were all interesting, it was really not until the last moment that it became clear how the disparate elements, the many threads of Kathrada's life, were being woven together to form a whole. It would have been useful had Lea been able to employ a dramaturg on her team. Kathrada 25/50 needed more dramatic coherence and a stronger through line.
Certain elements of the show were dissatisfying, largely because Lea had to fund the show herself, in part using crowd funding. This is not the ideal way to create the sophisticated dance of which Lea is capable, and it speaks clearly of the parlous state of dance funding in Canberra.
As part of the ACT dance community I want some variety in my local dance, not just the constant diet of youth and community activities. A very large amount of government funding goes annually to just one dance organisation and those who are aiming to give Canberra audiences a different and broader view of dance, struggle against almost impossible odds to achieve their potential as choreographers and directors. It pains me to see local professionals, including Lea and a number of other ACT dance artists, struggling to work without funding when a more equitable share of government spending on dance would achieve so much more for artists and audiences alike. But hats off to Lea for her courage and commitment to a different kind of dance in the ACT.
Most Viewed in Entertainment