Jimeoin the joker
One day Jimeoin woke up and realised he was good at telling jokes and he hasn't stopped since.
''Comedy of the highest order,'' read one review (The Independent). ''Classic nonsense ... Stand-up comedy at its best'' read another (The Scotsman).
Given he has had some pretty massive career highlights, you could imagine it might be quite difficult to impress Jimeoin. No stranger to television, his name has become known across the world for his unique brand of side-cracking comedy.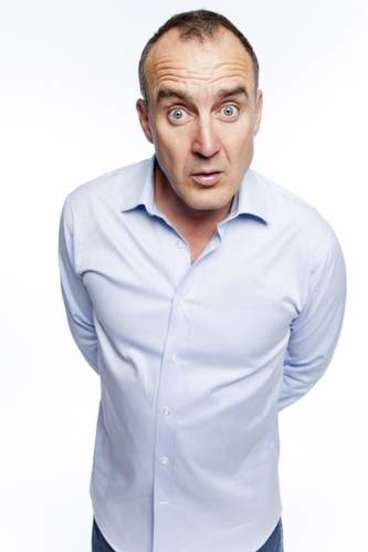 He has played Britain's biggest comedy showcases, such as Michael McIntyre's Comedy Roadshow and Live At The Apollo. He has also played the prestigious Royal Variety Performance, appeared regularly at the Melbourne International Comedy Festival and the Edinburgh Fringe, and often played at that massive annual comedic drawcard, Montreal's Just for Laughs.
These are some achievements for one person to have stacked up. Though when Fly caught up with the man who in 2006 and 2008 broke box-office records at the Edinburgh Fringe before the festivals had even opened, the main thing in his life was answering questions and doing publicity for his latest tour, Yes, Yes, Whatever?!?
The name of the show, which plays The Abbey and the Erindale Vikings Club for its Canberra dates, came from experiences walking around the Edinburgh Fringe, where ''everybody's show had some sort of heavy meaning'', he says. It also came from books with titles such as Writing to Remember or am I Writing to Forget?
''So I was like, 'Yes, yes, whatever','' he says.
It is this kind of perspective that keeps Jimeoin's feet on the ground, and probably the same that saw the comedian set off through outback Australia in 2005 on a tour that took him ''over the top'' of the country. Filmed for a TV series on BBC Northern Ireland called Jimeoin Down Under, he went out and played hotels, cattle ranches, swimming pools and ''anywhere that looked a bit interesting''. This was the same year his second feature film, 2005's The Extra, follow-up to the acclaimed 1999 hit The Craic, was released.
During such a busy and successful career, when asked what it is like to still be on top of his game, Jimeoin's reply is also grounded. ''So fabulous. I contribute a lot of it to my modesty,'' he says, uncomfortable with the idea of speaking about his own success. It beats ''being on a building site working six days a week, getting up at 5am, dying at gigs'', which was his life before the big time.
''Get me back in a time machine, please,'' he says.
Recalling the moment when he first realised that he might have a future as a comedian, the laugh master says it came after a show where his jokes had generated a ''euphoric'' reaction in the crowd. Back at work the next day, the realisation settled that he actually ''had thoughts that were funny''.
''It was that feeling, that quiet feeling that today was different to yesterday,'' he says.
It was an uncomplicated emotion for, in some ways, an uncomplicated man. Amused by the simple things in life, Jimeoin says that people falling over still make him laugh. This is perhaps why he was able to come up with a joke about a doughnut when requested, without even pausing for breath. ''What kind of ringtone have you got?'' he asks. ''I haven't looked yet, but it's a browny pink.''
Well, it's almost about a doughnut.
JIMEOIN
When: May 9 at Erindale Vikings, May 10 at The Abbey
Tickets: Erindale Vikings, $41 (members), $45 (non-members), dinner options available; The Abbey, $39+bf
Visit: vikings.com.au or theabbey.com.au
Most Viewed in Entertainment