ACT top cop moving to Customs
The ACT's police chief will leave the force to become the deputy head of Customs next month, tasked with helping to stamp out corruption and drive ''cultural reform'' within the troubled agency.
Chief Police Officer Roman Quaedvlieg was announced as the deputy chief executive of Customs on Friday, after just over three years with ACT Policing.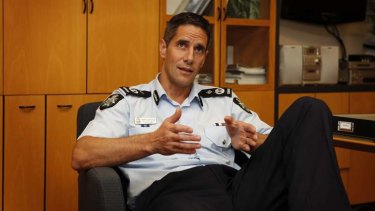 Assistant Commissioner Quaedvlieg will become the head of border enforcement, which incorporates the intelligence, compliance and enforcement, border protection command, and maritime areas of Customs.
The move is part of the federal government's push to reform the service, which has been plagued by allegations of corruption and criminal involvement.
News of the appointment came on the same day that a former customs officer was jailed in NSW for helping to smuggle precursor drugs through Sydney Airport to pay off a gambling debt.
Assistant Commissioner Quaedvlieg's departure leaves the ACT's police chief position vacant, but Deputy Chief Police Officer David Pryce will act in the role until a permanent replacement is found.
Fairfax Media believes the chief police officer's last day will be Friday May 17. He is expected to start with Customs the following Monday.
In an email announcing the appointment to staff, Customs CEO Michael Pezzullo said his new deputy would ''focus very closely'' on strengthening the agency's integrity and professional standards.
'Given the need to improve our law enforcement capability, and strengthen our image and reputation as a disciplined and professional service, Roman's experience, insight and above all leadership will be of great value,'' Mr Pezzullo wrote.
Assistant Commissioner Quaedvlieg joined ACT Policing in March 2010, combining experience on the local beat in Queensland with extensive work in federal agencies.
During his time as police chief, the ACT has experienced significant reductions in crime rates. Property crime has fallen to decade lows on his watch, the result of a concerted effort to tackle a small group of repeat offenders. He also presided over the controversial rollout of Tasers to frontline police in the ACT, and the introduction of random roadside drug testing.
The force's approach to mental health was also radically overhauled, with compulsory mental health training for all frontline members, and clinicians embedded in police operations to provide direct support to officers on the beat.
That move - described as a world first - now sees the embedded mental health clinicians receive more than 100 calls a month from police for help, and has halved the number of mental health patients transported by police to Canberra Hospital for assessment from 80 to 40 per month.
The police union said Assistant Commissioner Quaedvlieg was always ''well respected'' by the ACT's rank and file, and would be widely missed.
''He brought to the ACT experience from federal operations as well as his community policing experience from when he was in the Queensland police,'' Australian Federal Police Association national president Jon Hunt-Sharman said.
''That combination of skills and experience clearly was beneficial to the ACT community. Any replacement for the role would need to have a similar background.''
Assistant Commissioner Quaedvlieg came to ACT Policing after five years with the Australian Federal Police investigating money-laundering, large-scale fraud, identity crime, and working as manager of the Oil-for-Food taskforce.
Before that, he worked with the Queensland Police for 15 years, famously catching the ''postcard bandit'', notorious bank robber and escapee Brenden James Abbott.
He worked in covert infiltration and in areas of surveillance targeting major organised crime syndicates.
Mr Hunt-Sharman said several officers within the AFP were capable of taking on the role of deputy chief.
''There's certainly been a number of federal police officers, senior officers in the AFP, that have actually worked in the ACT and worked federally,'' he said.
''Those people would no doubt have the experience and capability to do the job, so internally there's certainly an array of people who would be capable of doing it.''
Home Affairs Minister Jason Clare said Assistant Commissioner Quaedvlieg would bring extensive experience in anti-corruption, investigations, intelligence, and aviation security to Customs.
''I have made it clear that major reform is needed,'' Mr Clare said.
''A key part of this is improving the law enforcement capability of the Customs and Border Protection Service. Mr Quaedvlieg will help drive this reform.''
ACT Police Minister Simon Corbell congratulated Assistant Commissioner Quaedvlieg.
''He has carried out his duties with diligence and a commitment to ACT Policing and the Canberra community, delivering an engaged, responsive and professional police service. We wish him all the very best,'' Mr Corbell said.