AEC urges Indigenous Australians to have their say
The Australian Electoral Commission is urging the Aboriginal and Torres Strait Islander community to make sure their voices are heard this federal election by ensuring they are enrolled to vote.
Although the electoral roll does not require people to identify as Indigenous, the AEC says data suggests only around 58 per cent of Indigenous Australians are enrolled and the current voter turnout among the community is about 63 per cent.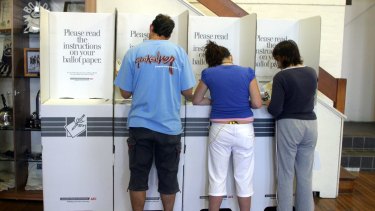 Senior project officer of the Indigenous Electoral Participation Program Mitchell Dahlstrom said despite only 1.7 per cent of the ACT's population being Indigenous, their involvement on July 2 was important.
"While it is a smaller number it is still a significant figure that we're trying to target here locally," he said.
"What our program is aiming to do is increase the number of Indigenous people on the electoral roll, increasing levels of formality and voter turnout in Indigenous Australians, and also building their understanding of electoral and democratic processes in Australia."
In February Prime Minister Malcolm Turnbull said a referendum to recognise Indigenous Australians in the constitution was "achievable" next year, and Mr Dahlstrom said it was important the Indigenous community was enrolled to make their voices heard.
"There is an ongoing discussion about a possible referendum," he said. "So we would love to see more Indigenous people on the electoral roll so they can also have their say in future federal events. It's important for Indigenous people to have their say."
The program has taken to social media and enlisted sports stars Sam Thaiday, Lewis Jetta, Tanisha Stanton, and actors Madeline Madden and Ian Zaro.
ACT Aboriginal and Torres Strait Islander Elected Body deputy chairperson Joanne Chivers said the AEC's focus on Indigenous voting was important and democratically vital.
"Every Commonwealth election the AEC always does undertake a number of different things to actively encourage Aboriginal and Torres Strait Islander people to enroll and participate.
"It's absolutely crucial that Aboriginal and Torres Strait Islander people engage because it's a way for them to have their voices heard."
The deadline to enroll for the upcoming federal election is 8pm Monday night.
James is a reporter for The Canberra Times and Chronicle