Andrew Colvin steps in to acting role as AFP commissioner
An authority on counter-terrorism who is in the running to lead the Australian Federal Police has stepped in to the agency's top job until a new commissioner is announced.
Acting AFP commissioner Andrew Colvin took over from Tony Negus when the former federal police chief ended a 32-year policing career this month.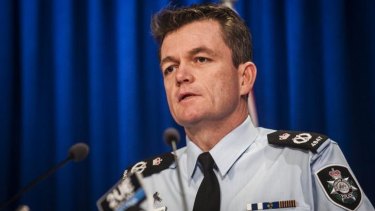 A spokeswoman for Justice Minister Michael Keenan this week said the federal government had gone through "an extensive national and international process" for a new commissioner.
She would not be drawn on when the new appointment would be announced.
Acting commissioner Colvin has taken the reins of the national law enforcement agency as the federal government raised Australia's terrorism alert level from medium to high.
In his first high-profile public appearance since he moved into the interim role, acting commissioner Colvin was beside Prime Minister Tony Abbott as he made the announcement about the increased terror threat last week.
Acting commissioner Colvin joined the NSW police force in 1990 and went on to become the AFP's national co-ordinator for counter-terrorism in 2002.
In that role, he oversaw aspects of Australia's police response to terrorism, including the Bali bombings that year and the 2003 Marriott Hotel bombing, and the Australian embassy bombing in Jakarta in 2004.
He has held a variety of senior roles within the AFP, among them managing complex technology crimes, intelligence, and serious and organised crime.
In June he became deputy commissioner of national security, which covers counter-terrorism, aviation and the international deployment group.
Assistant commissioner Leanne Close, who is the AFP's national human resources manager, is now acting in that role.
Mr Negus's unexpected announcement in June that he would step down when his five-year stint as the nation's top cop came to an end differed from his who each served a second term.
Acting commissioner Colvin is among those who have been tipped to take Mr Negus's job.
Other rumoured candidates included another AFP deputy commissioner, Mike Phelan, and NSW Police deputy commissioner Nick Kaldas.
The ACT's former police chief, Roman Quadvlieg, currently deputy head at the Australian Customs and Border Protection Service, is also a contender.
ACT chief police officer Rudi Lammers this month said Mr Negus's replacement would need to prioritise tackling increased threats from cybercrime and homegrown terrorists.
Megan Gorrey is the Urban Affairs reporter at the Sydney Morning Herald.