Artist renders Yowie Man deep in mystery
It's fitting that a portrait of Tim the Yowie Man contains hints of mysterious creatures lurking in the foliage, seen but still hidden.
The Canberra father-of-two has carved out a career as a cryptonaturalist - the study of strange and hidden phenomena - and in the process endeared himself as one of the national capital's real characters.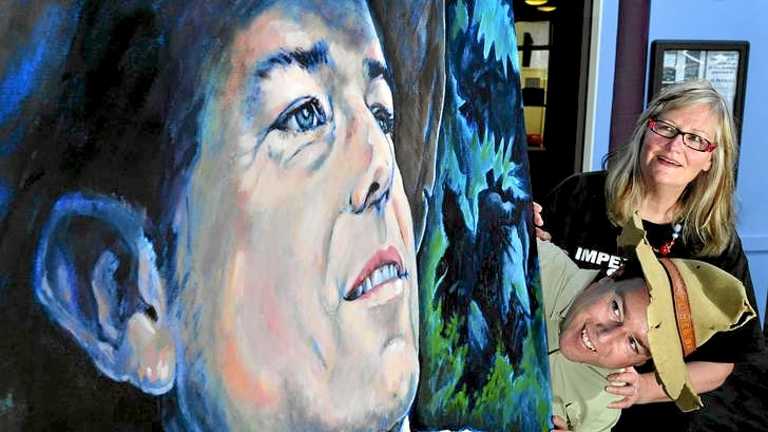 His portrait by Dickson artist Barbara van der Linden was unveiled last night at the Scope cafe at the Mount Stromlo Observatory as the sun set over Tim's beloved Brindabellas, where he says he spotted a yowie on Mount Franklin in 1994.
And the timing - Halloween night - was no accident.
''I thought that was appropriate,'' he said.
His main concern was ''not the wrinkles or the bags under my eyes'' but that the portrait got his trademark hat right. The verdict?
''I love it,'' he said.
Tim was selected by Ms van der Linden for her Faces of Canberra project, a series of portraits that have been progressively unveiled to be exhibited during the city's centenary celebrations next year.
Tim's is portrait No. 25, joining the likes of Raiders legend Mal Meninga, former chief minister Jon Stanhope and soup kitchen lady Stasia Dabrowski.
Ms van der Linden said her subjects were nominated by the public or chosen by herself because they made Canberra an interesting place in which to live.
She tried to capture a look in Tim's eyes that suggested he was pondering one of the many puzzles he had investigated, such as the yacht found in the landlocked Penrose State Forest.
''I try to tell a story as much as provide a visual read,'' she said, adding she was reluctant to make the portrait too mysterious because she didn't want to scare Tim's children, Sarah, 5, and Emily, 2.
Tim, 39, said he was honoured to be included in the project, especially as it was part of the centenary celebrations for a city he loved.
Ms van der Linden's portraits will be exhibited at M16 Artspace in Griffith in May and the Tuggeranong Arts Centre in July. She is also seeking funding to reproduce them in a book.