Ben Harper, the 'working man's musician', headed for Canberra
The room is quiet. It's a Wednesday night after a headlining show at the 9.30 Club in Washington, DC, a music bar with a reputation for excellent taste. And somewhere backstage, Ben Harper has decided to deal with the chore of calling the press in Australia to discuss his upcoming tour – seven lightning dates down under in July, including a spot on the line-up at Splendour in the Grass, and a flourishing final date at the Sydney Opera House.
It's easy to imagine he's relaxing with a drink in hand, just chilling out for a moment. He's in the middle of an extensive touring schedule, with the focus in recent months on his new album, No Mercy in This Land, made in collaboration with blues harmonica legend Charlie Musselwhite.
But Harper comes with his own intensity, his own honesty if you like. At age 48, with 15 albums under his belt, he's not kicking back, he's not taking the easy way.
This new album with Musselwhite, a 74-year-old raised in Memphis who learned the trade in Chicago and has called northern California home for nearly 50 years, is the second joint effort for the two. The first one, Get Up!, released in 2013, took home a Grammy for Best Blues Album.
The current tour is packed with songs from both No Mercy and Get Up!
"To have two entire records to pull from, it's twice the fun," Harper says. 
Of course, there are a few other treats thrown in, like a smokin' hot rendition of Yer Blues, by Lennon & McCartney, off The White Album, and When The Levee Breaks by Led Zeppelin.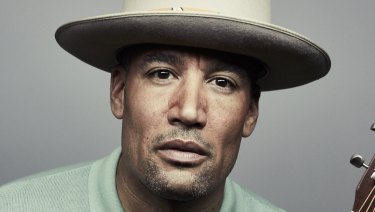 Harper is a bluesman at heart, but he's crossed the line into rock'n'roll stardom and it ain't just because of his good looks and liberal causes. Steal My Kisses remains one of the funkiest folk pop beatbox ditties of all time. Diamonds on the Inside was a mainstream hit. With My Own Two Hands danced on the border of reggae funk and soul – to the tune of more than 10 million YouTube views.
Yet not just once, but twice, he made time to make gutsy new blues music with Musselwhite.
Will the same fans who have been following you come to see you play with Charlie?
The question draws a long pause. "That's a thought provoking question," he says, before going quiet again.
"When I came out with my first record, in 1994, Welcome to the Cruel World, I wasn't overly concerned what would be thought of it," he says.
"As much as has changed since that first record, that's one thing that hasn't … I've always gone off the premise, if you are committed to what you do because you have to do it, it will find its own route in the world."
As Musselwhite has been quoted as saying, the music he is making with Harper is best described as blues for the 21st century.
Including the musicianship of Harper's band – drummer Jimmy Paxson, lead guitarist Jason Mozersky, and bass player Jesse Ingalls – it adds up to an extremely slick, sweet and nasty presentation of the blues.
"It's always nice to be reaching for something, leaning forward, taking chances, it's so liberating," Harper says of going down the path of making new blues music again.
"It is at my own peril. There are highs and lows. Some records catch people's attention … I never gauged my own records by commerce … I never bought into that."
Sure, Musselwhite is 74. But Lord, can he still play that harp.
"Night in and night out, he plays the most amazing harmonica the world will ever know," Harper says. "Charlie is true north."
While Musselwhite grew up with blues music, scavenging junk stores for 78rpm blues records and then playing with the likes of Muddy Waters, Little Walter and Howlin' Wolf, Harper was raised in sunny southern California, hanging out and working in their folk music centre and store, which featured artists like Brownie McGhee, Sonny Terry and Doc Watson.
Regardless of how he got there, Harper belongs to the blues and they belong to him.
"Listen man ... you just gotta know," he says. "Take a good long hard look in the mirror. If the spirit of the blues is with you, once it grabs hold, it doesn't let go."
The new album cuts deep with emotion, the lyrics laying on top of a rich tapestry of blues rhythm, much of it laid down by Musselwhite's smooth-and-searing harmonica. The title song, with lyrics by Harper, wastes no words:
What would be the first thing
You'd say to the Lord?
And the last thing you would dream
If you couldn't dream no more?
Won't you please help me to understand.
Is there no mercy in this land?
Harper says it is one of three songs on the album that is resonating strongly with fans. We both think of President Trump, but we manage to share that thought without even saying his name.
"It is working for the audiences," Harper says. "The record is sitting in a way that I haven't seen. It's gotten its own rain."
In a live show recorded in April at La Cigale in Paris, Harper introduces a song from the set as one dedicated specifically to "Donald Motherf---in' Trump". The song, from the Get Up! album, is called I Don't Believe a Word You Say.
The other two songs drawing praise are When Love Is Not Enough and The Bottle Wins Again.
As the spring night grows longer for Harper, who says he will probably stay awake until the sun comes up, he chews slowly on the warmth Australia has always offered him.
He has played at Bluesfest in Byron Bay nine times, starting in 1996. He credits that first show as a defining moment in his career.
"Things took off in a big way from there; things that I had to catch up to," he says.
"I am a working man's musician. I always have been, I always will be … I played Byron and things changed forever."