Most of us still associate the start of a school year with new pens and pristine exercise books. But this week, the latest crop of high school kids had quite a different thrill, that of busting open the packaging of a very nice piece of technology. The new Chromebooks - 15,000 of them to be distributed to public high school students across Canberra over the next few weeks - are part of a Canberra Labor pledge to ensure every child has access to the same device. The laptops have shatter-proof touchscreens, sturdy batteries and, crucially, internet access.
But most of these kids will already be carrying a separate device into class with them - a smartphone.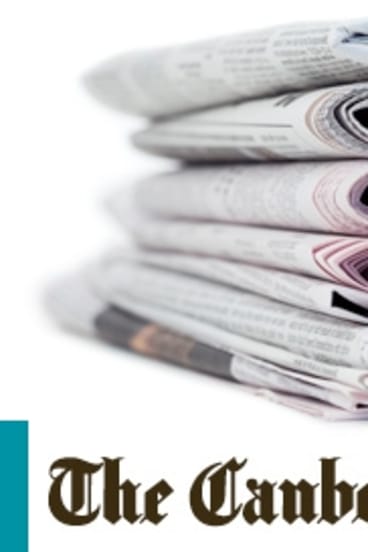 It's fair to say we have reached the point in this age of the smartphone where we can admit that the collective addiction has peaked, and needs to be addressed. As we sit in cafes and malls and offices and parks and playgrounds, scrolling and tapping and watching clips and reading memes and living vicariously through social media, there are articles and studies and even entire books being published about the negative consequences of this collective absorption.
Our attention spans are getting shorter, sleep and mental health are suffering and parents aren't engaging fully enough with their kids. And this is just for adults. How, then, can smartphones be affecting teenagers? How can high school students - with minds like sponges but so easily bored - be engaged with the education process if they have the proverbial alternative world right there in their pockets?
There is currently no official policy around mobile phones in Canberra public school classrooms, and no immediate plans to address the issue. ACT education minister Yvette Berry confirmed as much at a recent PR event at a north Canberra school. This was just days after federal education minister Simon Birmingham, and NSW Premier Gladys Berejiklian, both called for mobile phones to be banned in Australian classrooms.
While the federal minister conceded that technology was an important learning tool, he said "there was no conceivable reason as to why students need to access their personal mobile" at school. Many parents will disagree with this; the age of being uncontactable at any time is over. But, especially in the ACT, where students are now being issued with a complete learning device, perhaps a ban on the use of phones in classrooms - in place in several private schools already - should become the norm. At the very least the ACT Government should develop clearer guidelines on mobile device usage, in consultation with both families but also teachers, who too often have to deal with distracted students.
There is no argument that smartphones are wonder of the modern world, and it's impossible to revert to life before we had them. But they are also an almost irresistible distraction for anyone who knows how to use them. Learning is challenging, and requires engagement, participation and dedication - anything that interferes with that process would appear to be a negative. For this tech-savvy generation of students, a few hours in the day without a phone in their hands could only be a good thing.
Morning & Afternoon Newsletter
Delivered Mon–Fri.