Canberra singer Kirrah Amosa lands dream role in stage version of 'The Bodyguard'
As if belting out one Whitney Houston song wasn't hard enough, Canberra musician Kirrah Amosa is in the process of learning 14 of the late diva's hits.
Amosa has scored a dream role in brand new blockbuster musical The Bodyguard, which opens in Australia at Sydney's Lyric Theatre on April 21. The musical is based on the 1992 Warner Bros movie of the same name, starring Whitney Houston and Kevin Costner, and whose score is the highest-selling movie soundtrack of all time.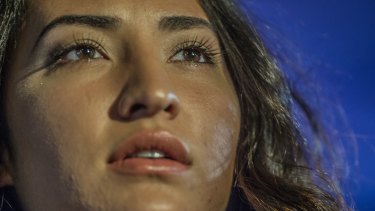 Despite being born two years after the release of the movie, Amosa says she's "honoured" to bring the songs made famous by Whitney Houston to the stage.
Amosa is understudying two lead roles - including Houston's role of Rachel Marron (played for the stage by Australian Idol alumni Paulini Curuenavuli) and Rachel's sister Nicki Marron (played by The Voice star Prinnie Stevens).
"I can play either of those roles with a week or an hour's notice," Amosa said.
"I'm on permanent standby."
The eldest child of Steve and Cait Amosa's six children, Amosa grew up in Canberra "immersed in music", and starred in her first musical at age 12.
She scored a Canberra Area Theatre (CAT) Award last year for Best Leading Actress in a Musical for her role as Elphaba in Wicked. Amosa was due to star as Eponine in Free-Rain Theatre's production of Les Miserables in early April, but was forced to pack up quickly and move to Sydney for a dream role in The Bodyguard.
"My days start at 7am and don't finish until midnight," she said.
"I'm singing, dancing, learning lines, learning songs, going to the gym - it's busy but I can't think of anything better I could be doing."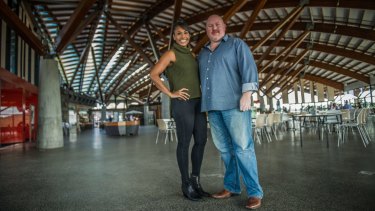 Damien Bermingham - star of many a Canberra Philharmonic and Canberra Repertory show - is playing Tony, the bodyguard of starlet Rachel Marron before Secret Service agent Frank Farmer is introduced.
"I've known the show and had the soundtrack since 1993 and I didn't think there was anything that particularly fit my skill set," Bermingham said.
"But then there was a role for Rachel's old bodyguard and I thought 'I could play a has-been bodyguard!'
"I actually was a bodyguard in Canberra many years ago and I thought 'well, I could put those skills to good use!"
Like Amosa, Bermingham grew up as part of a big musical family. The former Marist College student is the youngest of ten Bermingham children, and describes his siblings as "Canberra's answer to the Von Trapps".
"We all went through the Woden Valley Youth Choir and I was the youngest," he said.
"Whenever we have a family wedding we all get up and sing - it's so nice to have your brothers and sisters singing beautiful three and four-part harmony.
Bree Element is the life and entertainment editor at The Canberra Times