Canberra's gain until the cows go home
At first glance, it's a simple image of cows grazing on a misty morning.
But this large-scale landscape by Elioth Gruner is one of the most popular works in the Art Gallery of NSW, beloved by adults, children, city folk and country dwellers alike.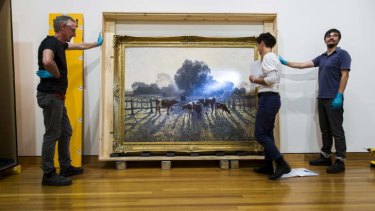 It's so popular that gallery staff say visitors are distressed when it is moved or taken down for any reason, as it has been in recent weeks.
But these visitors can rest easy in the knowledge that Spring Frost, Gruner's award-winning work that had critics raving when it won the Wynne Prize in 1919, has found a temporary home in Canberra.
The serene mob of cows has pride of place in a new exhibition of Gruner's work soon to open at Canberra Museum and Gallery.
It is one of 12 works on loan from the NSW gallery, and one of 70 in the show, which surveys Gruner's 30-year career from the early 1900s to the end of World War II.
There were murmurs of admiration at Canberra Museum and Gallery on Tuesday as the painting, the largest in the show, was carefully removed from its crate, where it had spent 24 hours acclimatising after the journey from Sydney.
It will hang among the beach scenes, rolling farmland and mountain ranges that were the mainstays of Gruner's work.
Many of the scenes will strike a chord with Canberrans, as the artist was captivated by the capital region, travelling here often and painting scenes along the Murrumbidgee and on the road to Cooma.
Exhibition curator Deborah Clark said Spring Frost, one of Gruner's most accomplished paintings, had a bucolic appeal.
And if you look closer, the painting is actually "suffused with light", the crisp early morning air almost palpable.
"The small farm holding, the small herd of dairy cows, the beautiful grassland - it's about a kind of bucolic pastoral Australian dream," she said.
"It was painted in 1919 and that's Emu Plains, which doesn't look like that now, unlike say some of our Murrumbidgee sites which look unchanged - this [setting] is all now suburban."
Art Gallery of NSW assistant conservator Melissa Harvey, who was on hand to check the painting's condition as it was unpacked, said people were captivated by the "country look". "People travel from out of Sydney just to see this work, and they're people that aren't art lovers," she said.
The NSW gallery's media relations manager, Susanne Briggs, said Spring Frost was one of two consistently popular works in its collection, the other being the 1891 work Fire's on by Arthur Streeton.
"People get a bit distressed when it's missing," she said."They come up to the counter and say, 'Where are the cows?'"
She said visitors of all kinds were attracted to it, especially children.
"I think it's the light and the size of it - [Gruner] has captured exactly what the countryside looks like, and exactly what cows are supposed to look like," she said. "It's just a beautiful painting - I'm starting to miss it already."
Elioth Gruner: The texture of light is at Canberra Museum and Gallery from March 8 until June 22.
Sally Pryor is a reporter at The Canberra Times.