Dendy Canberra proposed removal of 111 car parks to add six new cinemas
Plans have been lodged for an extension of Dendy Cinemas in the Canberra Centre to include six new theatres while removing 111 car parks from the complex.
The development application sites the proposal atop the existing multi-storey car park, in the same block of the Canberra Centre that houses Grill'd, Hugo Boss and Supabarn.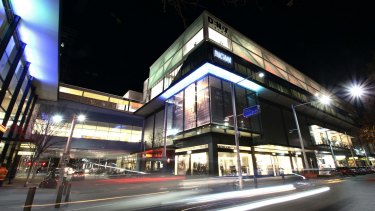 The $7 million extension would increase the height of the complex to 29 metres and add an additional 2400 square metres of floor space.
The development application stated the proposed new cinemas would "encourage further patronage to the city centre, particularly at night".
The traffic impact and parking documents in the DA state "the overall surplus of parking supply across the Canberra Centre" would offset the impact of the reduction of 111 car spaces, displaced by the new cinemas.
The application also brought into consideration the mixed-use development of Section 96 – approved in 2011 and set to include a nine-storey office tower and 11-storey residential tower with 300 apartments – would provide more car parking spaces than was required for building occupants.
The new development would mean an extra 480 cinema seats, from the addition of four cinemas, each seating 70 people, and two cinemas seating 100 people each.
The DA proposed a link-back to the existing Dendy Cinema foyer through a sky bridge above the existing bridge link over Scotts Crossing.
Subject to engineering resolution and environmental requirements, the design intent statement produced by Cox Architecture stated the intent was for the proposed design "to activate the established streetscape through a controlled manipulation and play of light and shadow".
"The facade will also feature portions of clear glazing, strategically placed to provide views of the city from within, whilst also providing glimpses of activity when perceived from street level."
A community consultation and information session was held for two hours at the Canberra Centre in mid-September, and nine people stopped to view images of the proposal.
"One feedback form was completed, raising the issue of impacts on parking and potential detours to shops during the construction period," the development application stated.
Construction is expected to commence later this year or early next year with interruptions to traffic along Scotts Crossing slated in the application.
The Dendy expansion on the cards is set to be the start of further upgrades to the centre, with the development application stating the owners of Canberra Centre, QIC, were "committed to progressive upgrades".
Canberra Centre and Dendy Cinemas could not be reached for comment.
Kimberley Le Lievre is the Editor of The Sunday Canberra Times