Family heirloom finds some (lost) family
Pamela Rothwell is 91 and that's a grand age, but her most prized possession is a family heirloom that is much older than her.
The fine mahogany chest of drawers – which is "at least 150" years, according to Ms Rothwell – seems bound to outlast her. Until recently, she had no known family to whom to leave it and the chest seemed destined to become an orphan.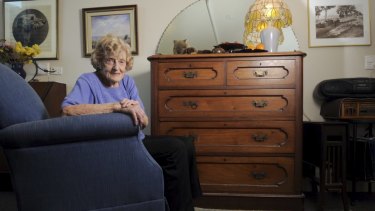 But a global search for a relative has found one almost in her backyard – Ms Rothwell's first cousin, 89-year-old Patrick Hovey, who lives near Cooma.
The two haven't seen one another for 58 years. The pair are both originally from England and neither one knew that the other had moved to Australia.
"I've been making my will because I'm 91," Ms Rothwell explained on Friday in her Ainslie retirement home room, which is dominated by the chest.
"And I thought, 'Oh, what am I going to do with this chest of drawers?'. It was the dowry of my grandmother, my father's mother. They got married in Cheshire in England in 1873. My grandmother looked after it until she died, and then she gave it to my mother, who looked after it until she died, which was in 1970. I've had it ever since, so I've had it for more than 40 years."
She migrated from England in the early 1950s, but went back several times, eventually lugging the chest to Australia.
Hoping to find a relative to treasure the heirloom, Ms Rothwell approached the Heraldry and Genealogy Society, which put her in touch with Bernard O'Keefe. He was at the retirement home on Friday, rejoicing at the happy outcome of his research and amazed that his search covering Britain, New Zealand and all of Australia bore fruit so close to home.
Mr O'Keefe had to go on some wild goose chases and there was every likelihood he would never find anyone. Then, suddenly, Mr Hovey came up on the genealogical radar. Mr Hovey has a son in Sydney and the venerable chest of drawers with its family stories will one day be his.
Ms Rothwell – the first female Canberra dentist to set up a private practice – is being driven to Cooma on Saturday to meet Mr Hovey.
"I haven't seen him since 1956 when I was at his wedding in England – so that's 58 years," she said. "I only spoke to him for the first time yesterday [Thursday].
"He's fairly deaf and and I'm so deaf because my hearing aid is so hopeless. And when the two of us were on the phone together trying to catch up on the last 50 years it was very funny."