Grandmasters make their moves for cup
Twenty-year-old Junta Ikeda learnt to play chess about the same time he started to read and write.
The Australian National University economics student is now ranked just outside the Australian top 10 and approaches the game like he would any competitive sport.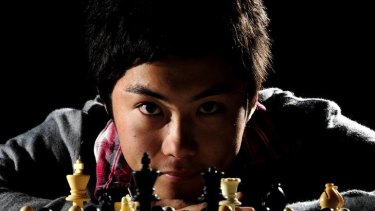 ''I started playing in adult tournaments when I was about 10-years-old,'' he said. ''It's a fun game, it's exciting and you learn a lot you can apply to other things in life.
''You're also making decisions - you have to be able to plan short- and long-term, and you have to be objective.''
Mr Ikeda is among some 300 players from 14 countries competing in Canberra's Doeberl Cup this long weekend.
The tournament, which attracts grandmasters from countries including India, Romania, Spain and Australia, pits similarly ranked players against each other over the course of the Easter weekend. The competitors play nine rounds, earning points for their results, with the highest points-scorer declared the winner of each division.
This year marks the cup's 50th staging, and its competitors are a diverse mix of ages, professions and nationalities.
Its youngest player is 4½, while the oldest is an 80-year-old former airconditioning installer, who competed in the first cup back in 1963.
Charles Bishop, who has been organising the event for the past five years, said there was a certain amount of pride in watching past winners return for this year's opening ceremony.
''It's pretty impressive to make it to 50 years in this world at any sort of public event,'' he said.
''To have that mix of ages and sexes and to be able to compete equally and bring people from all over the world - it's something we're very proud of.''
Ten-year-old Adam Glanville is one of the cup's younger players.
The Curtin Primary School student is competing in the under-1200 division, which was originally set up for younger players, but now attracts beginners of all ages.
''I like the strategy,'' Adam said.
''I don't really get nervous - unless the player is like my last opponent, who was really tall.''