'It is impossible to find the words': Brother of Dreamworld victim Roozi Araghi pays tribute
From the day Simon Araghi held his little baby brother Roozi in his arms, the two were inseparable.
"There are so many memories from when he was born to when we lost him," Simon said on Thursday, battling tears.
As the family comes to terms with the shocking loss of Roozi Araghi, his partner Luke Dorsett, Luke's sister Kate Goodchild and Sydney woman Cindy Low in Tuesday's horror accident at Dreamworld, Mr Araghi's brother Simon remembered a loving brother and beautiful uncle.
"He is such an amazing uncle to my 13-year-old son," Simon said.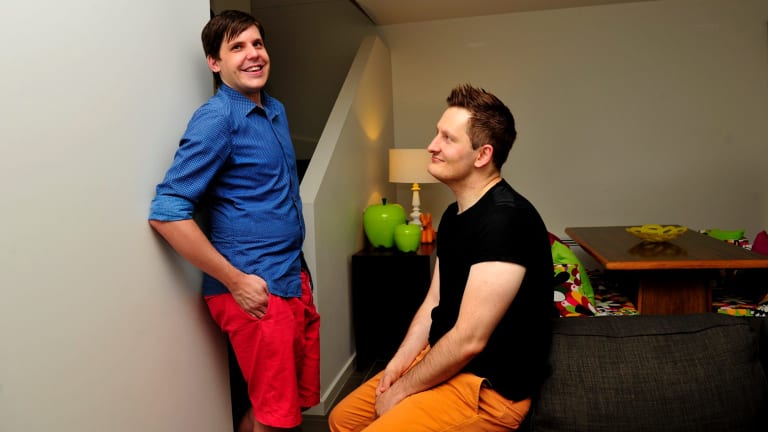 He said Roozi was the life of every party he attended and fought hard for his beliefs.
"He was all of these things and so much more. No words can even begin to describe him. His presence spoke for itself."
Many Canberrans will remember Roozi and Luke as heroes; smart young Canberrans who stood up to bureaucracy and won a four-year legal battle against the ACT government over stamp duty.
But at home they were just as humble as they were courageous and determined.
"I don't think they wanted to be heroes," Simon said.
"I think they felt lucky and blessed to have all the support of all the people who loved them. They stood by what was right."
He said the two public servants had a remarkable work ethic; Mr Araghi was on secondment at the Australian Bureau of Statistics where he was a popular member of the communications team, and Mr Dorsett was employed by the the Department of Human Services, where he was well-liked and respected amongst colleagues.
But Mr Araghi equally enjoyed a good boogie and some witty banter.
It is impossible to concentrate on anything without them here

Simon Araghi, brother of Dreamworld tragedy victim Roozi Araghi
"He was just groovy. Oh my god, he had some great dance moves."
"He was an amazing, beautiful brother who was loved by all and the most egalitarian person I've ever met in my life."
Mr Araghi was originally from Sydney, where Simon still lives, and studied History at the University of Sydney before moving to Canberra to join the public service. The Australian Electoral Commission was among the multiple government agencies he worked at over the years.
Simon wanted all of his loved ones and the wider community to know he was overwhelmingly appreciative of all of the support he and his family was receiving, but that "it is actually impossible to respond to it all".
"Roozi had a lot of friends and was very loved and we were very lucky to have him in our lives and will all miss him," he said.
"We will miss him and Luke and Kate so much. It is impossible to concentrate on anything without them here or find the words to say what the loss will mean to so many people."
Kate Goodchild, 32, was mum to two daughters aged just eight months and 12, the older daughter was believed to be also on the ride but survived the awful tragedy. Kate's husband David was understood to be watching nearby with the baby.
The Canberra community has also rallied around the friends and colleagues of Kim Dorsett, the mother of Luke and Kate, who worked for the ACT Education Department and was holidaying with them in Queensland.
Clare Sibthorpe is a reporter for The Canberra Times