Kangaroo documentary discovers a divided nation when it comes to culls
A controversial film that shines a light on Australia's love-hate relationship with kangaroos will premiere in Canberra on Thursday.
The confronting first minutes of the documentary, called Kangaroo, show the native icon being gunned down in the dark. Those images are juxtaposed with shots of Australia's stunning outback scenery, and kangaroos bounding across open plains.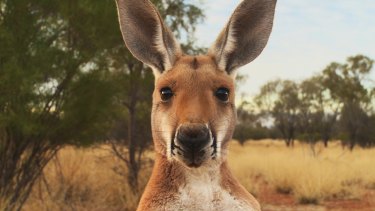 ACT environment minister Mick Gentlemen has described the film as "one-sided and sensationalist" despite admitting he hadn't seen it, while ACT Greens spokesman for the environment Shane Rattenbury said he would consider going to see the documentary when it comes to Dendy Canberra.
The documentary premiered in America in January to rave reviews. Film co-director Mick McIntyre said throughout the movie they explore the idea that while Australians cheer on the Wallabies, have the kangaroo on the Coat of Arms and it is the symbol of the national airline, there is an underlying notion of hatred among some Australians towards the macropod.
"We uncovered some things that we think are worthy of a national discussion, like the animal cruelty and the hygiene of kangaroo meat."
He said people had been eating kangaroo meat thinking it's clean and environmentally-friendly.
"What we discovered was that it's not. It's unavoidable how some carcasses get contaminated with E.coli and Salmonella. It's clearly not the meat it's been made out to be."
Mr McIntyre said he wasn't an animal activist. He said he and co-director Kate McIntyre Clere were in the market for a good story, predominantly for the American market, and there was clear international appeal in the kangaroo. The film was four years in the making.
"We thought it was an interesting story, but what we uncovered was not what we were expecting," Mr McIntyre said.
"We're happy to celebrate this great icon when it suits us, but it now appears we also turn a blind eye to the treatment of the kangaroo."
Initial thoughts on the film in Australia have resulted in "name calling and shouting", which Mr McIntyre said wasn't surprising.
"It's uncomfortable, and I make no apologies for that, because it's what is going on. We can either turn a blind eye to it or we can have a mature discussion about it."
He said the most poignant issue to him was that what started as culling kangaroos to protect property and livestock has become a commercial industry.
"It has changed to industry exploitation," Mr McIntyre said.
"What started out as farmers needing to be helped to control kangaroos, has now turned into an industry to kill kangaroos to keep the industry going."
The trailer for the film has one man saying how "wonderful", "fuzzy" and "maternal" kangaroos are, and in the same sentence saying the native animal is a pest and should be "eliminated wholesale".
Another voice in the film's trailer says they thought the kangaroo was "like the American Bald Eagle, a national symbol'", and another says Australians have been "hoodwinked into believing it was ok to kill our national icon".
"As documentary makers, we believe it is our role to show what's going on," Mr McIntyre said.
He said while the film didn't delve into state-specifics, the ACT was a "microcosm of what's going on around the country".
"The issues we bring up in the film very much apply to the ACT."
Mr Gentleman said "by all indications" the film contained dubious claims.
"It is also not relevant to the ACT context as we do not have a commercial kangaroo industry," he said.
"Small-scale culling is conducted in the ACT to protect the environment from overgrazing which can threaten other native flora and fauna, including threatened species. This culling is undertaken according to a strict national code of practice."
He said the ACT was the only jurisdiction to limit culling to a season between March and July to reduce the likelihood of orphaning joeys.
Mr Gentleman said while the ACT had undertaken kangaroo culls annually since 2009, no decision had been made on whether a cull would take place in 2018.
Mr Rattenbury said he couldn't comment on the film as he hadn't seen it, but said the ACT Greens - against calls from their NSW counterparts - would continue to support the cull of kangaroos in Canberra "on the basis that it is necessary to protect endangered ecosystems".
"This view is based on rigorous evidence and has no commercial basis. We support the regular review of the practice and the evidence to ensure it only occurs out of environmental necessity," Mr Rattenbury said.
Kangaroo: A Love-Hate Story will screen at Dendy Canberra from March 15. A Q&A session with the co-directors will be held on March 18 at 3.30pm.

Kimberley Le Lievre is the Editor of The Sunday Canberra Times