Libs put heat on academic over latest rate claims
The Canberra Liberals have stepped up their attack on a university economist who cast doubt on the party's ''triple your rates'' election slogan during October's territory election.
Opposition leader Zed Seselja and his deputy Brendan Smyth used parliamentary privilege in the Legislative Assembly on Wednesday to allege University of Canberra academic Ben Phillips had ''changed his tune'', on Labor's tax reform after the election was over.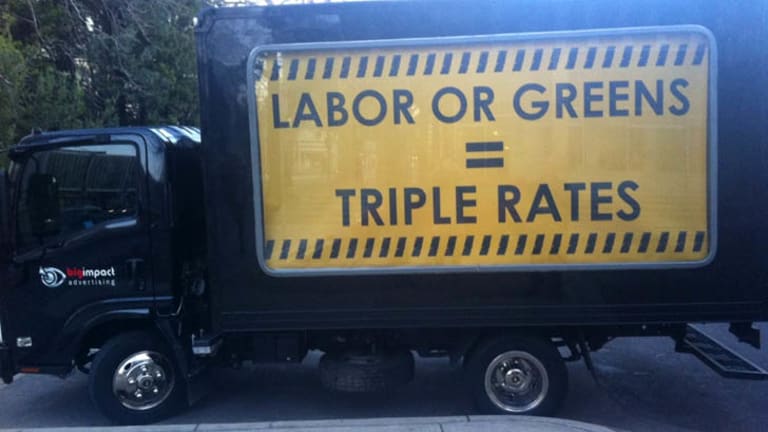 The Liberals moved a motion in Wednesday's sitting calling on the Labor-Greens government to outline what it would do to relieve the ''outrageous'' cost of living pressure on ''Canberra families'', with Mr Seselja making it clear that his party's rates campaign had not ended with its defeat at last month's election.
Mr Phillips, who said during the campaign that his work was being misrepresented by the Canberra Liberals in election material letterboxed to tens of thousands of homes, came in for attention from both Mr Smyth and Mr Seselja.
The Liberals seized on an ABC report broadcast on November 15 that said the economist, who assisted former Treasurer Ted Quinlan in his review of the tax system, had described the tax reforms as more efficient and less equitable than the present system.
''Now we've had a change of heart from Ben Phillips, it seems because before the election he was saying it was efficient and it was equitable,'' Mr Seselja told the Assembly chamber yesterday.
''After the election, it turns out that it is more efficient and less equitable, he's changed his tune either side of the election on what this does.
''We agree with the latest statement from Mr Phillips, we agree with the latest position from Mr Phillips in relation to this, we agree with the latest statement from Mr Phillips on this, that it is less equitable.''
Mr Smyth echoed his leader's words with the deputy saying Mr Phillips had admitted the taxation changes were not fair.
''If you look at the summary of the reforms from one of the individuals who helped put the package together, he now confesses that there will be many losers and few winners in this government's reforms,'' the Liberals' Treasury spokesman said.
Mr Seselja's motion was heavily amended by Greens minister Shane Rattenbury to reflect the Labor-Greens agenda and another amendment by Mr Smyth, trying to force the government to produce 20 years of economic modelling for its tax changes, was rejected by the Assembly.
Treasurer Andrew Barr said he had already outlined the first five years of his tax reforms.
''I've already released information on the next five years and I'll update further information wit the budget in 2013,'' Mr Barr said.
Mr Phillips said that his comments had been taken out of context.
''The commentary in the ABC recently and alerted to by Mr Seselja relates to a general comment made about rates being less equitable than stamp duty,'' the economist said
''To an extent this has been taken out of context.''
Mr Phillips offered to meet with any local politician who was seeking a better understanding of his approach to tax reform.
''The pros and cons of the reform underway in the ACT are probably too nuanced for media soundbites to do the reforms justice,'' he said.
Morning & Afternoon Newsletter
Delivered Mon–Fri.