Light Translations: Impressive young artists on show at Canberra Glassworks
Light Translations - Lisa Cahill and Holly Grace. Canberra Glassworks On until 17 July.
Light Translations is an exhibition by Lisa Cahill and Holly Grace that was originally conceived for the Glasmuseet (Glass Museum) in Ebeltoft, Denmark in January this year. It is not often we are able to view the work that our artists exhibit abroad so it is very gratifying to be able to see this significant exhibition by two very impressive young artists.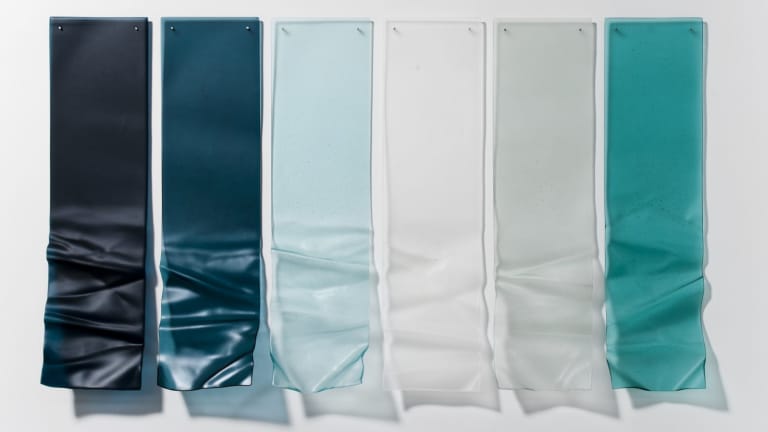 Cahill and Grace are colleagues and friends who met as students at Monash University in early 2000. Both artists have connections with Canberra. Lisa Cahill grew up here and now works at the Canberra Glassworks and Holly Grace has had two residencies at the Glassworks in 2012 and 2014. They both share a love of Scandinavia which has been inspirational for their work. Grace studied and worked as a glass blower at the Glasmuseet, Ebeltoft between 2003 and 2007 and has returned many times for further study. It was in Scandinavia that her interest in photography developed. Grace initially used photography to document the landscape but in recent times photographic images have become integral to her aesthetic practice. Both artists draw on the Scandinavian landscape for their images and the effect of light – a light they discovered to be more diffused and softer than the intense and harsher light of Australia.
Lisa Cahill's mother's family are Danish and since childhood she has travelled extensively between Australia and Denmark. She has mentioned in a recent interview the experience she had of seeing the sea frozen over between Denmark and Sweden so that even the waves were frozen beneath the ice. This struck me as an apt analogy for Cahill's own work where light, colour and movement seem suspended beneath the glass surface.
Although their work is very different in style – a fact both artists commented on when coming together to hang the exhibition in Ebeltoft – there is a strong affinity between their art practice as both artists see their work in relation to the natural world. Cahill's work deals more with atmospheric effects caused by light on water and sky. Sometimes it is melancholic in mood, at other times there is a freshness and vitality. Her art by its very nature is more abstract because it grapples with indefinable emotional responses to the landscape. Holly Grace's images are more literal. They relate to a sense of place whether the scrub and tall straggling snow gums of the Snowy Mountains or the birch groves in the sparse landscape of the Nordic winters.
Some of Lisa Cahill's works in this exhibition may be familiar as they have been seen in exhibitions at the Bilk Gallery and the Canberra Glassworks. However it is a great pleasure to encounter them again. Cahill orchestrates the moods of light, sky and sea with mature assurance. Extraneous detail is pared away and we are left with a distillation of the essence of a mood of nature encapsulated within a glass form or sets of panels.
These sets of wall panels are either flat panels as in the elegiac Sailors Warning #5, 2010, or a series of small panels making up one large wall piece. Breeze #5, 2014, is wall piece of sixteen panels. Who could not fail to be delighted by this work? It pleases on several levels. The glass panels are treated as if they are fluid drapery ruffled by a slight passing breeze. The passage of this breeze can be followed by the slight ripples in the surface of each glass panel and this movement is enforced by the dance of coloured light across the whole work. In Trace Series (Green), 2013, a set of twelve panels, the mood changes to the dark and sombre play of light on the impression of a darkening sea. Each panel builds up this image by expressive white "brush" strokes against the dark green and blue background. The effect is a strong and compelling image of barely contained power and energy. The work The Blue Hour #4, 2015, engenders a different mood. Its solid glass form is infused with a light misty blue infusion of colour that evolves into darker tones depending on the light. This suggests the light of late afternoon developing into dusk – a time for romantic and melancholy musings and a favourite time for romantic artists to capture the soft blue grey shades of light, as Cahill does so eloquently.
Light is almost a living presence in two impressive glass vessels by Holly Grace. Rams Head Range, 2015, and Dargal's Trail, 2015, have a golden glow like ritualistic vessels that have captured the sun, their surfaces drawn with the artist's lyrical linear patterns of interwoven tree trunks and branches.
The glass panels Ahl, 2015, and The Crackenback, 2015, wrap around to envelop the viewer in a world of landscape. This envelopment reminds me of Sidney Nolan's nine panel painting Riverbend (1964/5) held in the ANU art collection. While Nolan scratches back into the layers of paint to reproduce the rough textures of tall thin trees and low growing scrub, Grace uses sand blasting to cut into the glass surface enhanced by oxidised metal glass powders and stains to "release" the low relief silhouettes of the images of trees. In the work of both Nolan and Grace, light is the vital element that heightens the rough textures of the tree trunks and branches that crowd in on the surface planes so that the eye of the viewer is drawn in and held at a middle distance viewpoint – the sky only a sliver of grey or gold.
And although the snow gums and terrain of the Snowy Mountains are a large part of Grace's imagery, she is also influenced by the Scandinavian landscape. In works such as Ahl, 2015, Scots Pine-Skagen, 2015, and Birch trees-Ebeltoft, 2015, she successfully distils the essence of each specific place and holds it captive in glass enriching the experience and marking its timelessness.