Saudi Arabia diplomats rack up the most unpaid traffic fines
Saudi Arabians posted to their embassy in Canberra appear to flout official requests to pay traffic and parking fines.
Department of Foreign Affairs and Trade data shows staff at Middle Eastern missions rack up most of the overdue fines among the capital's diplomatic community.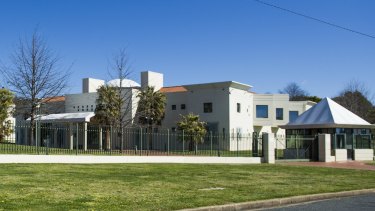 Saudis attached to the nation's embassy had amassed 125 outstanding infringement notices as of March, far more than any other country's diplomatic corps.
The Saudi tally was followed by Russia's (49 fines), Jordan's (35) and Kuwait's (27). Some fines had gone unpaid for more than 15 months.
Yet Saudi ambassador Nabil Al Saleh made it clear the practice of ignoring traffic and parking infringements was against his wishes.
He said that, even though envoys had diplomatic immunity, "the Saudi embassy members and staff have always, and will continue to, respect the laws and rules of the country where we reside".
"I believe all diplomatic missions should be obligated with civic responsibility," Mr Al Saleh said. "I also encourage all diplomats to pay off their infringement fines."
ACT police and rangers can issue on-the-spot fines to diplomats for traffic or parking offences, but they cannot enforce payment.
Most nations, including Australia, tell their envoys to pay such fines, deferring to the Vienna Convention on Diplomatic Relations' request that posted officials "respect the laws and regulations of the receiving state".
DFAT believes that asking diplomats to pay fines does not breach their immunity under the convention. "The department finds it difficult to accept the view that traffic infringements, including parking and speeding infringements, can be regarded as occurring in the course of the performance of official duties, even in the most exceptional circumstances," it says.
Meanwhile, Argentina ambassador Pedro Villagra Delgado, who is also the dean of the diplomatic corps in Canberra, says recent news reports on drunk and speeding envoys reflected unfairly on the diplomatic community.
Fairfax Media reported last week that federal police had been so concerned by the dangerous driving of a handful of diplomats in Canberra they asked DFAT to formally counsel the relevant ambassadors. The department later suppressed the drivers' names, saying even identifying which embassies they were attached to would unreasonably breach their privacy.
Mr Villagra Delgado said the individuals in those cases did not represent the diplomatic community as a whole, and grouping the charges together vilified the diplomatic corps.
He also believed embassy staff received about the same number of traffic infringement notices per capita as the rest of the Canberra community, and said the "immense majority of diplomats do pay their fines".