Scottsdale reserve rabbit control in the hands of volunteers
Four times a year, Ralph Farnbach drives to Scottsdale reserve to bait rabbits, gas their warrens and fill in rabbit holes.
The retired doctor is part of a dedicated team of Bush Heritage Australia volunteers fighting a plague of rabbits in the reserve, 45 minutes south of Canberra.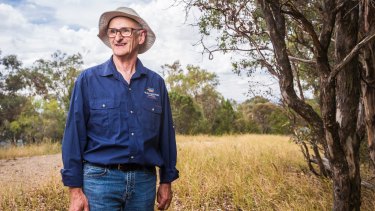 Alive with rare species of birds, animals, fish and reptiles, the reserve also features endangered grassy box woodlands and temperate grasslands.
Rabbits, however, are one of the pests also found on the 1328-hectare reserve.
Since 2008, Dr Farnbach has car pooled down to the reserve with a small group of other volunteers in their quest to control the rabbits.
The results show success, with a decline in the number of active warrens.
"About 60 per cent of the warrens visited were active, now it is down to about 20 per cent," he said.
"We're never going to get rid of all the rabbits, but we've reduced the population."
With the reduction in the rabbit population, the re-vegetation of the reserve has begun.
Dr Farnbach said Bush Heritage volunteers had witnessed success, after the rabbits destroyed the natural grasses, and their warrens caused erosion.
He became involved with the non-profit organisation through tree planting.
"It was something to do when I retired, something that was outside and active," he said.
Dr Farnbach has helped map rabbit warrens on Scottsdale and Mount Ainslie, in preparation for the rabbit cull.
He said he was proud of his work beside three fellow dedicated volunteers throughout the project's life.
Scottsdale reserve is part of the Kosciuszko to Coast project, a community partnership to help landowners create connections between remnant woodlands and grasslands between Kosciuszko and Namadgi national parks and forests of the NSW far south coast.
Kimberley Le Lievre is the Editor of The Sunday Canberra Times