Soldier On's new Poate centre will save veterans' lives
Almost 200 Afghanistan war veterans have taken their own lives and another 2600 have been confirmed as suffering from post traumatic stress disorder, Hugh Poate, the father of the murdered digger in whose honour Soldier On's new centre at Crace is named, said on Tuesday.
Mr Poate was speaking at the opening of the Robert Poate Reintegration and Recovery Centre and the new Soldier On headquarters.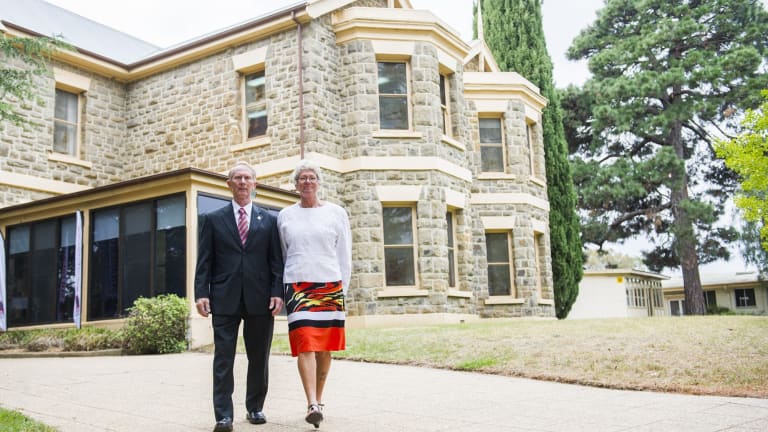 "Even though Australia's combat role in Afghanistan officially ended in December 2013 the war continues to take its toll (through) PTSD and suicide," he said.
"Close to 200 [of those who served] have already taken their own lives. This represents four times the number [41] killed by the enemy in Afghanistan."
Mr Poate and his wife, Janny, drove to Tuesday's ceremony in Robert's Nissan 180SX sportscar. Robert, then 23, was murdered by a rogue Afghan soldier in an insider attack in Uruzgan Province on August 29, 2012.
Mr Poate, who said he and Mrs Poate had formed insoluble bonds with Afghan war casualties during a walk along the Kokoda Track the following year, has appealed to the community to support Soldier On.
"Regrettably the incidence of suicide and PTSD are still rising," he said. "Suicide is preventable and PTSD is treatable. As a community we have an obligation to do everything we can for the men and women who put their lives on the line for the country through military service."
The first Robert Poate Centre was opened in Braddon last February. Demand for its services escalated at a remarkable rate and the move to the CSIRO's Gungahlin site will quadruple capacity.
Soldier On board chairman and former chief of army, Professor Peter Leahy, said the CSIRO had a long history of supporting Australia's armed services.
"Don't get the impression this is a charity with a lot of money," he said. "They are letting us have this for a peppercorn rent of $1 a year. There will be [coin] buckets out later."
While the stone walls of Gungahlin Homestead, like the leaden Canberra skies and surrounding pine trees, were a world away from Afghanistan on Tuesday morning, the rambling structure is now first port of call for veterans seeking help with the mental and physical legacies of deployment.
"Soldier On has taken a firm and pinnacle role in the recovery and rehabilitation of people who have been willing to put themselves in harm's way," Governor-General Sir Peter Cosgrove said.
Professor Leahy noted 2015 was the centenary of the Gallipoli campaign. "We honour the heroes of the past by paying attention to securing the future of our contemporary wounded."
Soldier On has grown from servicing 200 people in 2013 to more than 300 people a month nationwide in 2015.
It has centres in Sydney, Adelaide and Canberra. There are plans for more in Victoria, Queensland and Western Australia.
The Canberra centre will offer men and women affected by their service free physiotherapy, yoga classes and other physical activities. There will also be community and social events and free educational opportunities up to diploma level qualifications in accounting, business management and other careers.
David Ellery is a reporter for The Canberra Times.