Sparkles all round as glittering portrait unveiled
Actor and singer Jon English said he first met Coralie Wood when she was the publicist on a touring production of The Pirates of Penzance nearly 20 years ago.
''Coralie asked me if there was anything she could do for me and I said, 'Yes, get out of Palestine!'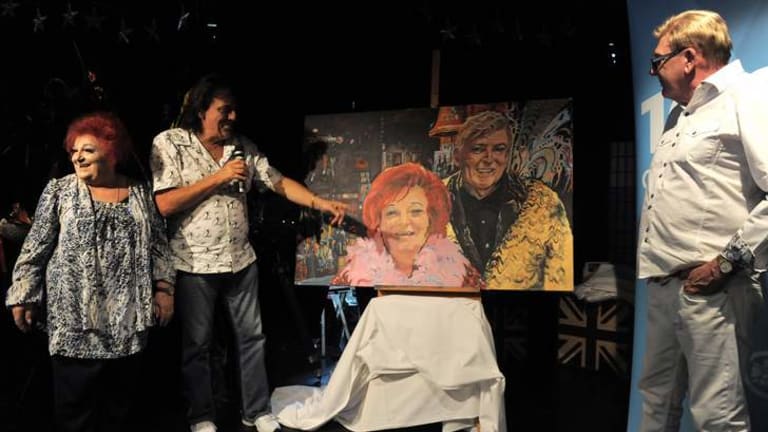 She laughed.''
They've had a lot of laughs since then and there were more on Friday when English unveiled Barbara van der Linden's portrait of Wood and her good friend and hairdresser, Charles Oliver, at Teatro Vivaldi Restaurant.
As flashes went off, Oliver quipped to English, ''I feel like a celebrity but you're the only celebrity here.''
Van der Linden, who painted the two as one of the portraits in her three-year Centenary project Faces of Canberra, said Wood and Oliver were ''two of Canberra's most extraordinary and colourful figures''.
She said Oliver's gold lame´ coat was the most difficult she had ever painted, and the sparkling glasses and bottles at the bar of Vivaldi's, where the two sat, were also a challenge.
''In their portrait I have tried to capture the sparkle that seems to travel with these two wherever they go,'' she said.
Wood organises the Canberra Area Theatre Awards, which are on Saturday night, and for which long-time Canberra actor Oliver is one of the judges.
Wood said, ''I'm delighted and excited I could have a portrait done with my very best friend … I think I look younger than I am.''
And how old would that be?
''Oooh, you! Older than you think.''
Van der Linden said the project, which has included former chief minister Jon Stanhope, Salvation Army charity collector Alan Jessop and Soup Kitchen lady Stasia Dabrowski, was nearing completion and that the complete set of paintings would be exhibited at M16 Artspace in May.

Ron Cerabona is an arts reporter for The Canberra Times.
Morning & Afternoon Newsletter
Delivered Mon–Fri.