Swimmers urged to look before they leap
Before diving into the cool waters of the Murrumbidgee, Brett Duhigg carefully checked the water's depth to make sure it wouldn't be a life-changing plunge.
For those Canberrans lucky enough to be finished work or school for the year but not fortunate enough to be at the beach, the city's waterholes are looking enticing.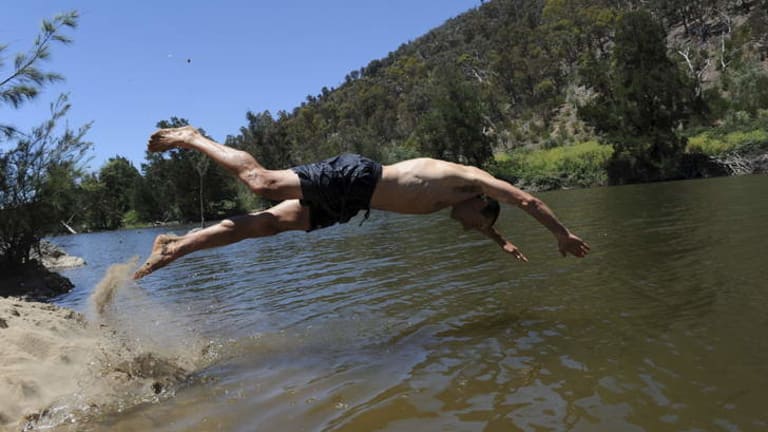 After a forecast high of 29 degrees on Friday, the temperature will climb back to 32 degrees on Saturday and keep climbing to a forecast 34 degrees on Christmas Eve.
The timing is right, then, for Territory and Municipal Services Minister Shane Rattenbury to promote the city's ''top six'' swimming spots; Uriarra Crossing, Casuarina Sands, Pine Island, Tharwa Sandwash, Cotter Bend and Kambah Pool, where Mr Duhigg was cooling off.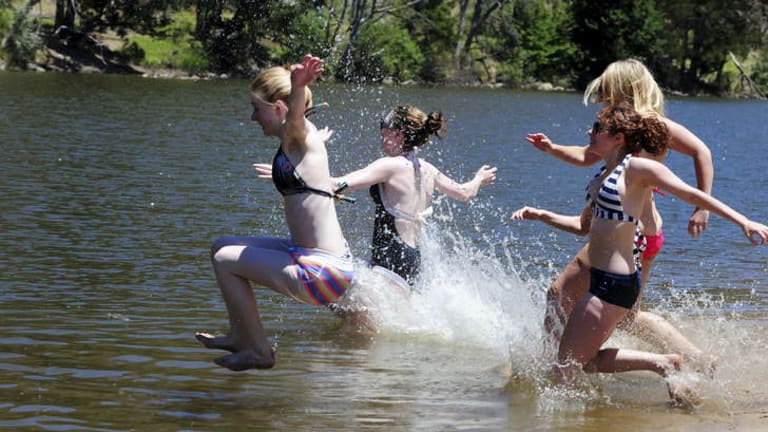 But the government and Royal Life Saving ACT have warned people not to underestimate the potential dangers, including spinal or head injuries, from hidden objects or misjudging the depth.
Sean Hodges from the Royal Life Saving ACT believes the hazards of river swimming are underestimated.
''It's one of the most common misconceptions that people have, they think most people drown at the beach. In reality, more people drown in rivers, lakes or dams than at the beach,'' he said. ''We think part of the problem is that people assume it's safer there than it really is.''
Males are at particular risk, drowning at four times the rate of females. Teenage boys and young men are among the most vulnerable, tending to take more risks, such as using rope swings or diving into shallow water. Too often, they are affected by alcohol.
''We need to take precautions because there are always risks, even at designated areas. People need to be responsible, not rush in without assessing the environment,'' Mr Hodges said. ''With these freshwater locations, the water isn't as clear as we see at the beach.''
The ACT recorded just one drowning death in 2011-12. However, a tragedy was averted in October when Gungahlin schoolgirl Zartash Sarwar was pulled seemingly lifeless from Yerrabi Pond after she and two friends were swept in by rushing stormwater. Fortunately, Zartash was rescued by off-duty firefighter Neil Maher, who, along with a passing police officer, Paul Reynolds, performed life-saving CPR. She has recovered and returned to school.
Mr Hodges said that inspiring story should motivate all parents to teach their children to swim and to learn CPR. ''That was an excellent outcome and a fantastic example of the importance of CPR, because that literally has saved her life. We'd encourage parents to imagine if that was their own child and ask themselves if they would know what they needed to do to save them.
''If that won't motivate parents to do a two-hour course to learn CPR, nothing will.''
Morning & Afternoon Newsletter
Delivered Mon–Fri.