Tale of a convict given shelter by Aborigines
The works of Aboriginal artist Tommy McRae (1835-1901) are famously ''full of vitality, full of stuff going on'', the director of the National Museum, Andrew Sayers, enthused yesterday, displaying the two action-packed pen and ink McRaes the museum has purchased.
The two works are Buckley's Escape and Murray Tribal Warfare, and Buckley's Escape is really rather special, Mr Sayers says, because all of McRae's many illustrations of the Buckley story gave a unique view of it. William Buckley was a convict who escaped into the western districts of Port Phillip and spent the next 33 years living with Aboriginal people before returning to European colonial life. His is one of the great stories from the period of early European colonisation and contact.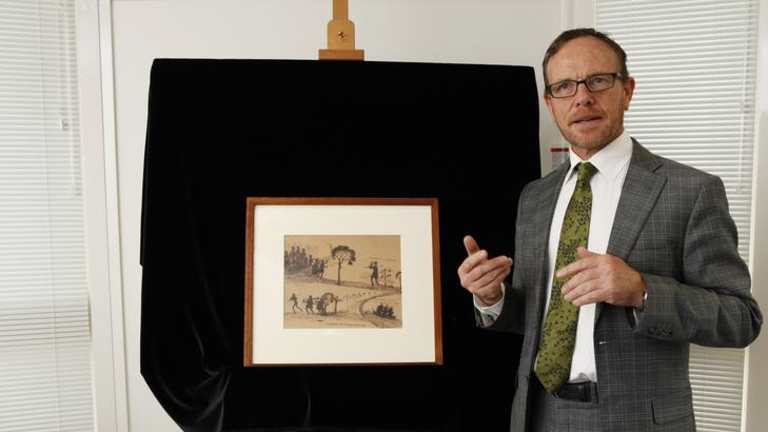 ''When European artists depicted the Buckley story they were always interested in the end of that time when Buckley came out of the bush and surprised a surveying party, but what McRae was interested in was Buckley becoming a part of Aboriginal society,'' Mr Sayers explained. ''So what we've actually got [in Buckley's Escape] is a serial within the one drawing. We've got all these parts of the story. So here [indicating] is the arrival of the convict ship in Hobson's Bay. And there's the group of Aboriginal people out hunting, and rather surprised to see the ship. And then we've got Buckley's escape.''
In a book about his unique experiences, Buckley explained how he escaped from the ship and wandered along the coast half-starved. He came upon the grave of a man with the deceased's spears sticking from it. He, Buckley, took and carried the spears and when Aboriginal people saw him they took him for a kind of spirit, a white reincarnation of the buried man. They took him in and embraced him. These events are there, serialised in McRae's busy drawing.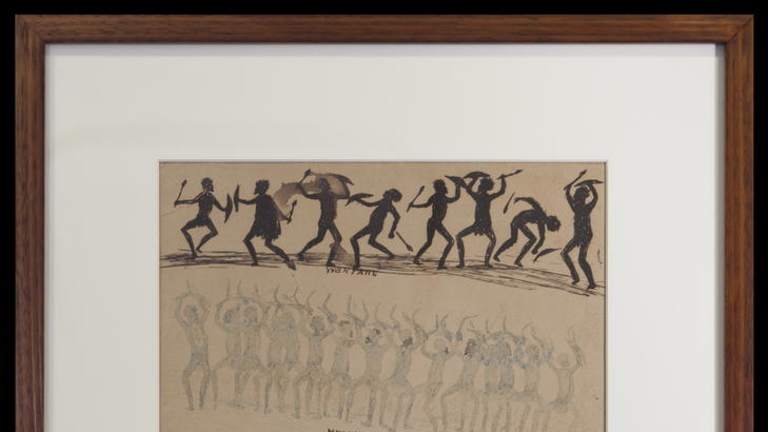 In other famous McRae works about the Buckley story, Buckley is depicted doing everything that the Aboriginals are doing, dancing and hunting, as just one of them. In one he is in a line of dancing men doing exactly their steps but distinguished from them by the whiteness of his skin and by his very European hat.
McRae's Murray Tribal Warfare is similarly full of stuff going on. Everyone really does look as if he's in a pitched battle. Weapons are being brandished and dropped. One man falls to the ground dead or wounded.
Mr Sayers is a McRae authority and says that it's because McRae works are so very lively that they were so popular in his own time and he was able, though primarily a stockman, to meet commission after commission of his work. One of his European contemporaries, also an artist trying to illustrate Aboriginal themes, conceded that she wasn't in McRae's class. ''His work has a look of life which mine does not have,'' she is said to have sighed.
The pictures' vitality gave their purchasers great value for money and McRae, also respected for being a strong teetotaller who saw the harm the demon drink could do his people, was respected for being financially astute. He usually required purchase before he would execute a commissioned drawing.
And on the subject of purchasings, the museum has a policy of telling the world what it pays for the things it acquires and disclosed, yesterday, that it has paid $79,300 for McRae's Buckley's Escape and $24,400 for his Murray Tribal Warfare.