Terry Snow's Willinga Park a 'game changer' for campdrafting
Pete Comiskey travelled for four days to compete at the World Championship Gold Buckle Campdraft held at Bawley Point's Willinga Park. Comiskey, his partner Bryony and their five-year-old son Peter, packed up their trailer, and 13 horses, and headed south from their commercial cattle station in Nebo, about two hours west of Mackay in Queensland.
Four rounds later, about four minutes in total, Comiskey walked away with the $100,000 first prize, the largest pot offered in a sport that dates back to the late 1800s.
Campdrafting originated when stockmen  tried to one up each other around camp, testing their horse's skill in "cutting out" an animal and herding them through a gate. In formal competitions riders must select and single out an animal in the camp, before taking it out into the yard and guiding it through a set of pegs, a figure of eight and then the final gate. It sounds much easier than it is.
Willinga Park is the latest passion of Canberra businessman Terry Snow. The billionaire, who is ranked among the 50 richest people in Australia, has put up a quarter of a million dollars in prize money over the three days for his inaugural campdrafting event, the richest purse offered in Australia.
It's lunchtime on day two and he's out in the yard during a break. Leaning on the heavy gates of the camp, a white hat perched on his head, dusty boots, Snow looks like any old horseman, not like a man with an estimated fortune of $1.3 billion, talking to competitors, judges, organisers. He pats a lean, brown horse on the neck and turns to the crowd.
There's more prize money on offer, he announces off the cuff, for the riders who won't qualify for tomorrow's semi-finals, a dash for cash, with a first prize of $5000. The crowd cheers and riders who were ready to pack up and head home start thinking of their next ride.
It's a whole new game.
"What Terry has done here is going to take campdrafting to another level," says Comiskey, who has been competing in the sport for close to 40 years, and is rated as one of the sport's best riders.
"When there's this kind of money and the facilities are this good, it's going to attract competitors from all over Australia and get the best of the best."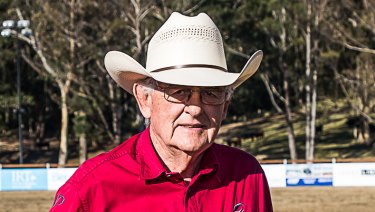 Troy Palmer, also one of Australia's best riders, agrees.
"This event is a game changer for our sport," Palmer says. "$100,000 for the winner is life-changing, and we've never seen anything like it in this country.
"What Terry Snow has done at Willinga Park is second to none. You could travel all over the world and not find a better complex. As campdrafters, we're lucky and blessed that Terry is passionate about our sport, and I have no doubt that with his support, campdrafting is going to go to the next level."
For Canberra rider Steve Hart, who runs a horse training facility out near Googong where he holds clinics for campdrafting and other equine disciplines, the money would have been life changing, but as luck would have it the cow he singled out in the camp in the semi-final had a different idea and he misses out.
"Campdrafting is a sport of three minds, your's, your horse's and the beast's," he says, admitting that sometimes it's the luck of the draw to get all three working in sync.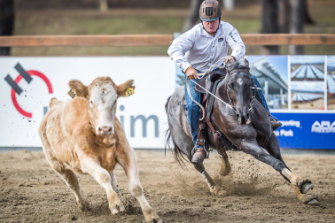 Braidwood rider Scot Shea has had a busy week. Not only did he have a couple of horses competing he was responsible for organising the 1250 cattle used for event, sourcing them from farms in Braidwood, Bungendore, Goulburn, Murrumbateman. Nowra and some off Willinga itself.
There's no sign of animal cruelty here, the steers and heifers are only used once for a run, ever. The beasts, as they are affectionately called, are clever things and seem to be able to work out the quickest route to the exit, and it doesn't involve being steered around some cones in the yard. A few times beasts stumble and slip, but that means the ride is over. More than once a rider dismounts to make sure the beast is okay. A few other times the beast hits the open arena, props and turns to stare the horse down. You're done if that happens too and the crowd loves it.
"There's been something of a different atmosphere here," Comiskey says of the Willinga crowd, many of who are seeing campdrafting for the first time.
"It's been a laugh to see people on the beast's side, cheering for the cow."
The event is not a total Terry Snow love-fest. There are murmurs about how long it's taking to smooth out the arena after every hundred or so rides, and  about why, during the showing of horses for the next day's sale, they're covered in bright red Willinga silk blankets - "You can't even see the horse," one potential buyer says. There have been complaints, too, from the Bawley locals about the traffic in their sleepy south coast village.
And there's still some degree of scepticism about what this very rich man is doing in what has traditionally been a working man's sport.
Here people wear denim, not business suits, checked shirts and hats, spurs on the heels of their heavy boots, large buckles on the front of their belts. Their faces are weathered from hours in the sun, many riders still work on farms or run horse training facilities of their own, they are outside people. About six women competed in Bawley, Kimberley Sammon made the final round.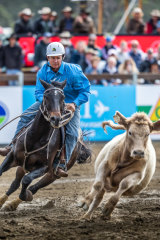 It's a family sport, toddlers cheer dad on in the arena, others ride around on scooters, hassling their parents for loose change to buy an icecream. There are large camper trailers and horse floats perched on the hill above the campdrafting area, next to the polo field, washing hangs from makeshift clotheslines and picnic tables are set up, horses are brushed and fed, a home away from home.
As the sun starts to set, the bar opens and the fire pits are lit. Those who have finished riding order the first of many rums of the night, there are stories to be told, old mates to catch up with, shit to be spun.
The campdrafting community is like a big family, more than one person tells me.
And maybe that means Terry Snow is the prodigal uncle. He told me once before Willinga will be his legacy, "not the airport".
For all the award-winning architecture, the world-class sculptures, the sheer grandeur of the venue which has cost him more than $100 million to build, Willinga has never looked better, doing what it was built to do - host events, full of people, and horses.
"It's a beautiful property and I enjoy it," Snow says, "but I like to share it with as many people as I can.
"It's been a terrific event, the campdrafting has been wonderful, we've had some big scores, the cattle have been tough but the good riders have been able to do their thing."
Snow said he's pleased Australia's best riders have made the trip to the south coast. Competitors came from as far afield as Rockhampton and Adelaide.
"We've got campdrafting royalty here, Terry Hall, Mark Butsworth, Troy Palmer, Peter Comiskey, I've been over-awed by who's turned up."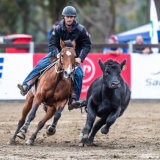 With the event over and the rum flowing, the fires burning, and live country music playing well into the night, the campdraft has been declared a success.
Snow's already thinking about the showjumping event scheduled for December and he's busy in negotiations to build a cross country course so eventing can be held at Willinga alongside the campdrafting, dressage, showjumping and polo.
The riders will wake up the morning after, bodies and heads a little sore one might suggest, pack up their trailers and their families and their horses and head home.
"More than 30,000 people compete in campdrafting around Australia," says Comiskey.
"This is the furthest we've ever travelled, but it was worth every mile."
Karen Hardy is a reporter at The Canberra Times.